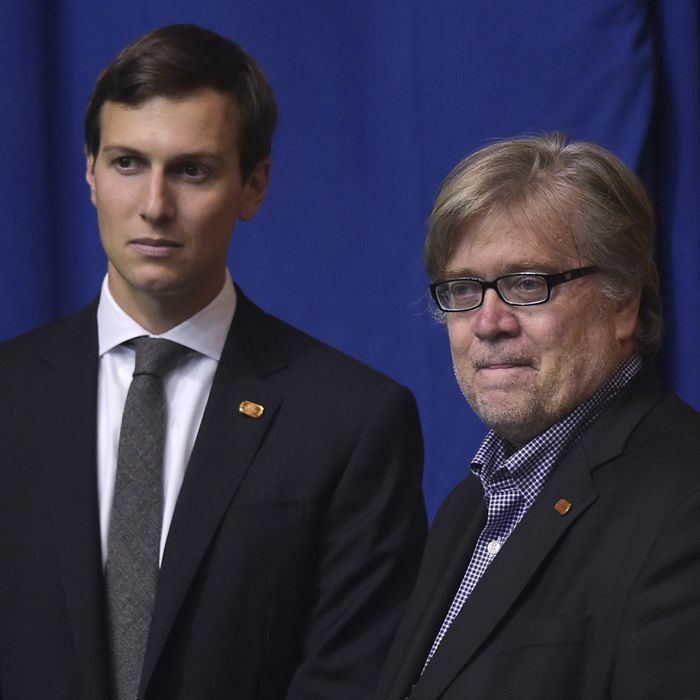 Bannon and Kushner, in happier times.
Photo: Mandel Ngan/AFP/Getty Images
Last month the Huffington Post reported that White House strategist Steve Bannon has been working to advance his nationalist agenda as quickly as possible because he doesn't expect to be around for long. "I'm expecting to be fired by the summer," he reportedly told several friends.
It appears his departure nearly came a few months early. Politico reported on Wednesday night that after weeks of clashing with Jared Kushner, the president's son-in-law and adviser, and his allies, Bannon had grown so frustrated that he wanted to quit. Rebekah Mercer, a GOP megadonor close to Bannon, talked him out of resigning. "Bekah tried to convince him that this is a long-term play," said a GOP operative.

According to the New York Times, Bannon didn't just consider leaving; he actually threatened to quit if he was removed from the National Security Council's "principals committee."
Bannon called this claim "total nonsense." After his ouster was announced on Wednesday his allies claimed he was only on the committee to "babysit" National Security Adviser Michael Flynn. Now that Flynn has resigned, "That job is done."
"Susan Rice operationalized the N.S.C. during the last administration," Bannon said in a statement. "I was put on the N.S.C. with General Flynn to ensure that it was de-operationalized. General McMaster has returned the N.S.C. to its proper function."
The Washington Post reported that Kushner had helpfully suggested that there may be better uses of Bannon's skills:
In conversations Wednesday afternoon, several Trump associates described Bannon as overstretched, with multiple portfolios within the White House, and said the president's son-in-law and senior adviser, Jared Kushner, has been paying close attention to how to better use Bannon's skills as the administration works to recover from a rocky and dramatic first few months.
But there have been rumors of a less-than-friendly shift in White House power dynamics for some time now. Bannon and Kushner formed an unlikely alliance during the campaign, and it stretched into the early weeks of the administration. ("For a guy who was a progressive," Bannon said of Kushner in New York in January, "he really gets this grassroots populist movement in a huge way.") That changed as policies pushed by Bannon, like the travel ban, left the Trump administration mired in controversy with little to show for it.
In addition to Kushner taking on an absurd amount of responsibility in recent weeks, he's reportedly helped promote Gary Cohn, Trump's top economic policy adviser, and Dina Powell, the deputy national security adviser for strategy within the White House. The two former Goldman Sachs executives are more moderate, particularly when compared to the administration's Breitbart faction. "Big fight is between nationalists and the 'West Wing Democrats,'" a senior administration official told Politico. The order that removes Bannon from the NSC happens to authorize Powell to attend meetings of the principals committee.
Kushner & Co. might be maneuvering against Bannon (and even planting anti-Bannon stories with MSNBC, if you believe Roger Stone and Alex Jones), but Bannon may have irritated an even bigger player. There were reports that President Trump was angry that he wasn't "fully briefed" on the order that put Bannon on the principals committee in the first place, and according to the Times he's irritated that he hasn't made progress on the travel ban or health care. Then there's this:
Moreover, Mr. Bannon's Svengali-style reputation has chafed on a president who sees himself as the West Wing's only leading man. Several associates said the president had quietly expressed annoyance over the credit Mr. Bannon had received for setting the agenda — and Mr. Trump was not pleased by the "President Bannon" puppet-master theme promoted by magazines, late-night talk shows and Twitter.
So perhaps Bannon is also being undermined by the president's inability to ignore an obvious ploy to get under his skin.