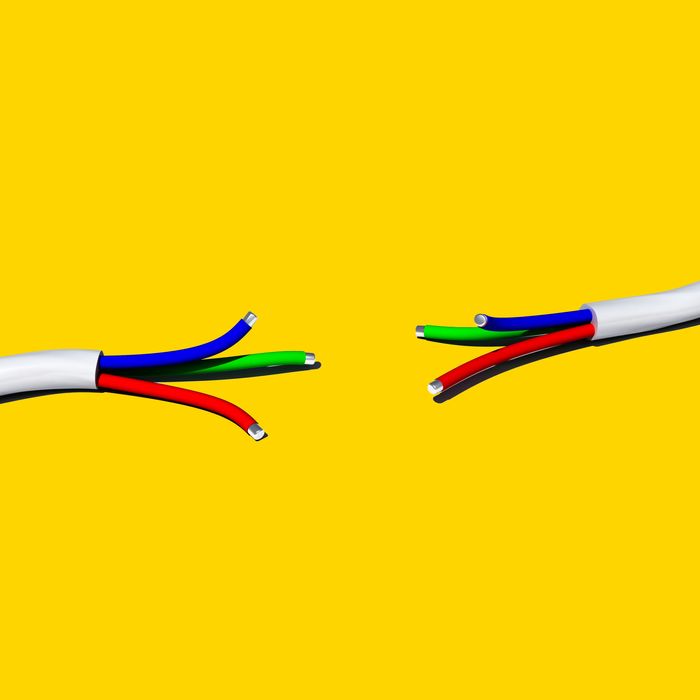 Note: Do not actually cut your cords if you sign up for these services.
Photo: Daft_Lion_Studio/Getty Images
Being a cord-cutter is great, for the most part. Cable packages are overpriced and, unless you have extremely diverse tastes, filled with channels you don't care about, but are still paying for.
But being a cord-cutter also means doing a lot of filling in around the edges. Netflix and Amazon Prime are great for movies and TV shows, but watching live TV, especially live sports, used to mean hoping it was airing on an over-the-air local TV channel; watching at a friend's house; venturing onto a malware-loaded site for a grainy livestream; or toughing it out at a sports bar, which, generally speaking, is a bit like living inside a Murray Hill–bro's brain.
But that's rapidly changed. Starting last year, there's been a sudden rush of services that offer "skinny" bundles via the internet — a smaller group of channels for less money, with more choice about which channels you pay for.
There are now four of these services on the market: Sling TV, PlayStation Vue, DirecTV Now, and YouTube TV. (Hulu is bringing out its own service at some point in 2017, but there aren't many details about it yet.)
I decided to sign up for all four at their most basic tier, and see which ones would mean I could watch opening-day baseball, or catch an episode of The Expanse live.
Sling TV
Pricing: Depending on your point of view, it's either complicated or allows for a ton of consumer choice. There are a lot of options, and sorting out exactly what you're getting takes some time.
Sling TV has the cheapest starting points of the four services, with a $20 Orange package that nets you channels like ESPN, CNN, and AMC. You won't get any local channels, but if you have a decent over-the-air antenna (and get reception), you won't need it. $25 gets the Blue package, which removes some options (no more ESPN), but adds others (e.g., Syfy, FX, and Bravo) and a few local channels (Fox and NBC in select markets). For $40, you can get both packages together. Then there are various add-on channels, which range from $5 to $10, that give you smaller additional packages of TV channels, focusing on things like Spanish-language channels, sports, or hard news.
The Good: It works with many of the newer smart TVs, Roku, Amazon Fire, Apple TV, Chromcast, and Xbox One, giving it some of the broadest support of any of the livestreaming services. The plans are a little complicated, but give you the most freedom in what you want to watch. Prepay for a month of service, and they'll send you a free Roku Express.
The Bad: The Sling TV app is still somewhat buggy on every device I used it on (iPhone, Android, macOS, and an Amazon Fire Stick), and I had to restart streams a few times. Support is spotty across older smart TVs made before 2014 or so. Search functionality isn't great, and setting up your favorite shows is weird and confusing. Cloud DVR recording is available, but only 50 hours worth — you have to pay $5 for it, and it's only available on Android and Roku.
Who Should Get It: Those seeking truly skinny bundles. If you only care about getting, say, Comedy Central, CNN, and ESPN, you can get live TV for crazy cheap.
PlayStation Vue
Pricing: There are just four tiers to pick from, which start at $40 and range up to $75 — with the highest tier including premium channels like HBO and Showtime.
The Good: Vue offers up a cloud-based DVR service that will store episodes of nearly any show (except those shown by CBS) for up to 28 days. Works well on a PlayStation (of course), but also supports Android, iOS, Windows, and macOS. If you're willing to pay, it has the most complete lineup of channels around — but you may also end up spending more than you would have if you had stuck with a regular cable package. It offers the most broadcast networks of any of the livestreaming TV services currently.
The Bad: Search functionality is spotty — better spell the name of the show you're looking for exactly right, otherwise you won't find it. The app seems to favor channels owned by Sony itself — Vue really wants you to check out stuff on TruTV, for instance. A dispute with Viacom means that Viacom channels aren't available for any price — no MTV or Comedy Central in sight. Fast-forwarding on many on-demand shows is disabled, which can be a major pain if you stop watching halfway through something and want to watch the rest later.
Who Should Get It: If you want something that most closely resembles the cable package that you can currently get from your cable provider, minus Viacom channels, Vue is it — and you'll be able to watch your shows from a lot more places and devices.
DirecTV Now
Pricing: Another four-tier model, this time with annoying names like "Live a Little" ($35 a month) and "Gotta Have It All ($70 a month).
The Good: Adding premium channels like HBO is only $5, making it significantly cheaper than competing services, all of which charge $15. Prepay for one month, and they'll send you a free Amazon Fire Stick.
The Bad: No cloud DVR recording. Users experienced extensive network problems during much of January. Video quality was widely inconsistent, even on a 150 Mbps, hardwired connection. That Viacom dispute means no MTV or Comedy Central. The app, which I tried using via a Chrome web browser, an Android phone, a Google Chromecast, and an Amazon Fire Stick, is just a mess; buttons would regularly stop responding, and the app simply crashed at several points.
Who Should Get It: The parents of the people who worked so hard on this product. It's nice to support your children.
YouTube TV
Pricing: Dead simple. You have one option: $35 a month for about 40 channels. You can do a few add-ons like HBO or Showtime, but that's about it.
The Good: On your phone and computer, it has a fantastic user experience. Searching for shows is easy, and you can even search for things like themes — "buddy comedies" quickly brings up 21 Jump Street and Ride Along. It comes with an infinite cloud DVR that keeps shows for up to nine months — you can record as much as you want, without worry. You can even do this for live sports; one click means you can set YouTube TV to record every Knicks or Mets game that comes on. Smooth streaming and easy controls.
The Bad: There are only two ways to watch it on your actual TV: plug in your laptop or use a Chromecast. Both are not great options — hooking up your PC is a pain, and Chromecast doesn't offer some other basic streaming services, like Amazon Prime, and makes you use your smartphone as a remote. Again, the Viacom dispute means no MTV or Comedy Central. There are some serious gaps in the channels offered, compared to other services. For what's offered, $35 feels steep — the same amount can get you a lot more with any of the other services.
Who Should Get It: If the channel lineup on YouTube TV matches up closely with your tastes — and you watch the majority of your TV on your laptop, phone, or tablet anyway — this is the easiest way to build up a massive DVR collection of your favorite shows.
The Bottom Line
Of the four I tested, I would steer most people toward Sling TV. You can easily get a bundle that will include everything you want for less than you're paying your cable company, and Sling TV, while not perfect, has the best selection of channels available right now.
That said, this is a market in flux: Both Sling TV and PlayStation Vue have added and dropped channels within the past few months, YouTube TV is barely a week old, and Hulu will enter the scene soon (and we'll likely see a few more entrants, including Amazon, within the year).
This is going to be a scary year for the companies that own live-TV streaming services: It's a developing market with a lot of competition (including from traditional cable companies), and I fully expect a few of these services to be gone by the end of 2018. But as a consumer, it's a good time to jump in. Price-and-channel-availability competition will be fierce, which should lead to better choices for you. All of these services offer free trials, so you can get a sense of how the service will work with the tech you already have, and which ones offer the channels you want for the least amount of money. And since all are month-to-month services, if you decide that you hate the service you're on, you can always cancel it and move on to the next one.