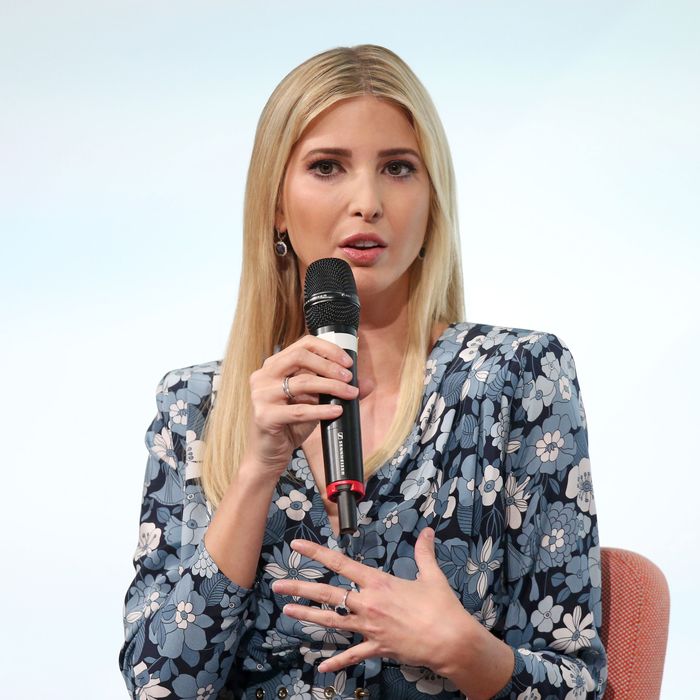 Ivanka Trump speaking in Germany.
Photo: Sean Gallup/Getty Images
Days after his mentor Bill O'Reilly was fired, Fox News host Jesse Watters made what was widely heard as a crude sexual reference about President Trump's daughter Ivanka Trump, who also happens to be a top White House official. Watters made the comment on the Fox News program The Five, which debuted at its new time, 9 p.m. Eastern, this past Monday.
In a segment about Ivanka Trump being booed while defending her father's policies on women and families, Watters said: "It's funny, the left says they really respect women but then when given the opportunity to respect a woman like that, they boo and hiss, so I don't really get what's going on here …" And then, after making a hand gesture Watters added, "But, I really like how she was speaking into that microphone."
Watters makes a lewd remark during a segment discussing Ivanka Trump.
The Five co-host Kimberly Guilfoyle quickly moved to the next panelist without reacting to Watters's comment.
Twitter quickly reacted, even from inside the Murdoch media world, with John Podhoretz, editor of commentary for the New York Post, tweeting:
Watters's unsubtle remark comes at a time when Fox News is grappling with fallout from O'Reilly's termination and multiple pending sexual-harassment lawsuits, and a class-action lawsuit alleging racism within the top cable news network.
Watters, who got his start as a producer on The O'Reilly Factor, quickly moved up the ranks with his ambush interviews and man-on-the-street segments which seek to embarrass those who participate. One such man-on-the-street segment, which Watters filmed in Chinatown last year, drew almost universal condemnation for being racist and tone-deaf.
But the controversy from segments like that on The O'Reilly Factor haven't hindered Watters's rise at Fox News. Last year he got his own Saturday-evening show, and after O'Reilly was fired last week he was added as a permanent panelist on The Five.
Yesterday, Fox News' head of human resources Kevin Lord sent a memo to all employees, contributors, and freelancers mandating that they must go through sensitivity training. It's unclear whether Watters has gone through this training.
When asked for comment on Watters's statement on The Five, a Fox News spokesman replied with a statement attributed to Watters: "During the break we were commenting on Ivanka's voice and how it was low and steady and resonates like a smooth jazz radio DJ. This was in no way a joke about anything else." Watters tweeted a similar statement earlier today. He made no mention of Trump's voice in his crude comment.
The same spokesman declined to comment when asked if Fox News, as a corporation, had a comment.