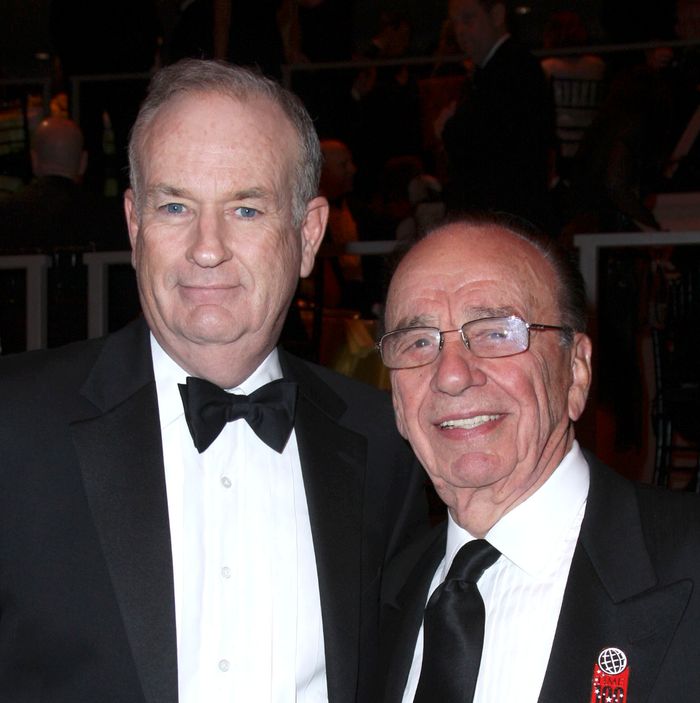 Bill O'Reilly and Rupert Murdoch in 2008.
Photo: Patrick McMullan/Patrick McMullan via Getty Images
As more and more companies pull ads from Bill O'Reilly's prime-time program, Fox News staffers are beginning to speculate over how — or if — O'Reilly can survive the sexual harassment scandal swirling around him. The intensity of the backlash appears to be growing, not abating. As many as 18 sponsors have bailed on O'Reilly's program and the National Organization of Women has called for his firing.
Right now, it's too early to predict where the scandal will lead. O'Reilly has weathered prior spells of self-inflicted public outrage, from the 2004 Andrea Mackris sexual harassment scandal to his 2007 comment that he was surprised to see black diners at Sylvia's ate normally. In each case, O'Reilly was saved by the loyalty of his viewers (after the Mackris scandal his ratings went up).
The person with the most power to decide O'Reilly's fate is Rupert Murdoch. In the wake of Roger Ailes's ouster last summer, Murdoch stepped in and assumed day-to-day control of Fox News, working out of the office suite that formerly belonged to Ailes. According to Fox News insiders, Murdoch's instinct will be to protect O'Reilly as long as possible. His show generates more than $100 million in revenue per year, and while advertiser boycotts appear damaging on the surface, in many cases the companies in question shift ads to different parts of the Fox schedule. "The impact of these boycotts can be cosmetic," one insider told me. "The feeling is let's keep our heads down and hope this blows over."
But pure business logic could also lead to O'Reilly's toppling. Much has changed since his previous controversies. His scandal is playing out at a moment when the wheels seem to be coming off Fox News as current and former employees file gender- and racial-discrimination lawsuits. As one of the network's original stars, O'Reilly is a public face of a toxic culture that Ailes built over 20 years.
Questions about Fox News' culture are becoming an increasingly urgent business problem for Murdoch. The stock price of Fox News parent company 21st Century Fox dropped 1.2 percent today. Insiders at Fox News worry the scandal could threaten to derail Murdoch's $14 billion bid to acquire all of the European pay-TV service Sky. It's happened before: Murdoch's previous bid to acquire Sky was scuttled by the London phone-hacking scandal. At Fox News, there is talk that the post-Ailes scandals are giving new ammunition to critics who oppose the takeover. "O'Reilly will be gone if Murdoch thinks it will help the Sky merger get approved," an insider said.