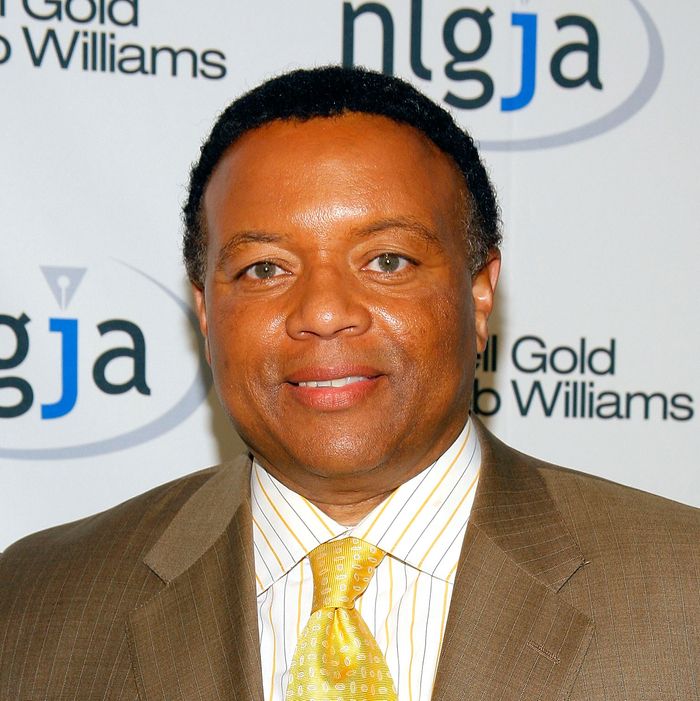 Fox News correspondent Kelly Wright.
Photo: Andy Kropa/Getty Images
Fox News anchor Kelly Wright is the latest on-air personality to sue the network. This afternoon, Wright joined a racial-discrimination case filed last month in Bronx Supreme Court against Fox News, its parent company 21st Century Fox, general counsel Dianne Brandi, and former comptroller Judith Slater. That suit now has 11 plaintiffs.
Wright joined Fox News as a reporter in 2003 and did a stint co-hosting the weekend edition of Fox & Friends. He currently co-hosts America's News Headquarters on Saturdays. In the suit, Wright alleges he was "forced to endure many racist comments" at Fox, which were "intended to paint [him] as a caricature of a Black entertainer – i.e., a Jim Crow."
According to the suit, Bill O'Reilly suggested that Wright should "sing the National Anthem at the Fox News Town Halls" and refused to book Wright during the unrest in Ferguson, Missouri, because Wright's proposed segment "showed Blacks in 'too positive' a light." Wright says he reported the alleged racial discrimination to Fox News co-president Bill Shine, executive vice-president for programming Suzanne Scott, and Brandi, specifically telling them that Fox is "too blonde and too White." According to the suit, "Nothing was ever done to remedy the discrimination."
"Fox News and Dianne Brandi vehemently deny the race discrimination claims in both lawsuits," a network spokesperson said. "They are copycat complaints of the original one filed last month. We will vigorously defend these cases."
Slater denied the allegations as well. "These are meritless and frivolous lawsuits and all claims of racial discrimination against Ms. Slater are completely false," said her attorney, Catherine M. Foti. "Given how outrageous and offensive these suits are, it's incomprehensible to imagine how anyone has joined or would join these legal actions."
Today's court filing also includes new allegations of racism against former Fox News chief Roger Ailes. A former payroll employee named Musfiq Rahman claims that Ailes became "furious" when Rahman mistakenly walked into his office while looking for a colleague on the hall sometime in 2014. The suit suggests that Ailes believed Raham, who is from Bangladesh, was a terrorist because he was dark-skinned (Ailes reportedly believed he was targeted by Al Qaeda for assassination). The suit says, "Ailes ordered that a wall be constructed immediately in his personal office to act as a barrier to entry." (Last year, Vanity Fair's Sarah Ellison first reported on the existence of Ailes's security door, and quoted sources speculating it was to hide Ailes's sexual harassment.)
The filing asserts that Rahman and "a number of Black employees" in the accounting department had their security passes to the second floor revoked following the incident. "Thereafter, these humiliated employees were forced to get 'escorts' when they needed to speak to other employees on the second floor," the suit says.
Ailes's attorney, Susan Estrich, said they have yet to see the suit.