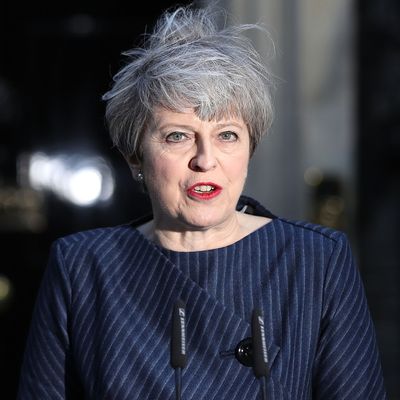 British Prime Minister Theresa May could not resist taking advantage of her party's public-opinion advantage over Labour, and is aiming to strengthen her position going into Brexit negotiations.
Photo: Dan Kitwood/Getty Images
It is always a marvel to political junkies in America that our parent country can call and hold a general election in a matter of weeks, when it takes us years for our election "cycles" to unfold. Technically, a change in election procedures in 2011 means British prime ministers can no longer unilaterally call "snap" elections; two-thirds of the House of Commons must confer. But because no one in particular has a particularly good reason for refusing to go to the voters, it is almost certain that Theresa May's appeal for a June 8 general election will be ratified quickly by Parliament, and the race will be on, for the second time in just over two years (the last general election was in May 2015).
May's announcement was a surprise to the extent that she had repeatedly foresworn an early election. She has, after all, only been in office since July of last year, after winning a leadership contest triggered by David Cameron's resignation (itself triggered by the shock victory of a referendum to withdraw the U.K. from the EU). But it makes very good sense for her and her let's-accept-Brexit faction of the Conservative Party.
At the moment the Tories have a huge public-opinion advantage over Labour, a party even more divided over Brexit than the governing party and suffering from widespread disgruntlement with Jeremy Corbyn's leadership. May is very likely to gain seats in June, which would strengthen her in Brexit negotiations with the European Union while giving her more maneuvering room against right-wing backbenchers on domestic issues. Additionally, she could treat a positive election as a de facto ratification of her policies, enabling her to resist pressure for a second vote on Brexit.
Probably the party most eager to hit the hustings is the Liberal Democrats, decimated in the last election and now standing as the only unambiguously anti-Brexit political group.
Given Labour's troubles, Scottish Nationalists will likely come out of the election retaining a dominant position in Scotland, with a renewed mandate to skirmish with 10 Downing Street over a second Scottish independence referendum, which it would like to hold in 2018 or 2019, essentially asking Scottish voters to choose between independence or Brexit.
May is taking the risk of setting high expectations her party might not reach. And for Tories there is something to be said for extending the intra-Labour torment surrounding Corbyn's leadership as long as possible; a really poor Labour showing in June might provide an excuse for giving him the heave-ho. But for now, there's no time for second-guessing or complex strategizing; the short campaign trail compels everyone to hit the road. We can only envy U.K. voters, pols, and media.