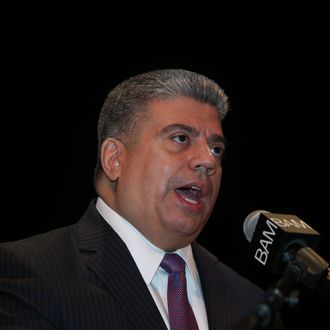 Eric Gonzalez.
Photo: Pacific Press/LightRocket via Getty Images
With the Trump administration pumping up ICE and threatening sanctuary cities, Brooklyn law enforcement is set to adopt a policy aimed at protecting immigrants from facing overly harsh consequences for committing minor crimes. The New York Times reports that the Brooklyn district attorney's office will try to take an "immigration-neutral" approach to cases involving documented and undocumented defendants. That means that when an immigrant is accused of a low-level offense, prosecutors will be ordered to "do what they can to secure guilty pleas without invoking federal laws that could lead to detention or deportation, or could cause trouble for those hoping to obtain full citizenship."
Acting D.A. Eric Gonzalez (who is hoping to be elected as the late Ken Thompson's permanent replacement this November) first floated the idea of the new policy earlier this year. "I grew up in the office and I'm very proud of the 20-plus years in the office, but I was trained that immigration is a collateral consequence and not something for me to be directly mindful of," he told a meeting of the Kings County Criminal Bar Association. "I can't stand by that anymore. If it's a case where we are looking for a non-custodial plea, the thought of having someone deported because they pled to a misdemeanor is ridiculous."
"If someone confronts a guilty plea that would automatically subject them to a harsh immigration penalty and there's another possible plea that would hold them accountable and ensure public safety, justice demands they be given the one that doesn't have immigration consequences," Gonzalez reasoned in a statement announcing the initiative. "We will not stop prosecuting crimes, but we are determined to see that case outcomes are proportionate to the offense as well as fair and just for everyone." Gonzalez was sure to emphasize that his office was "not seeking to frustrate the federal government's function of protecting our country," but Jeff Sessions is unlikely to see it that way.