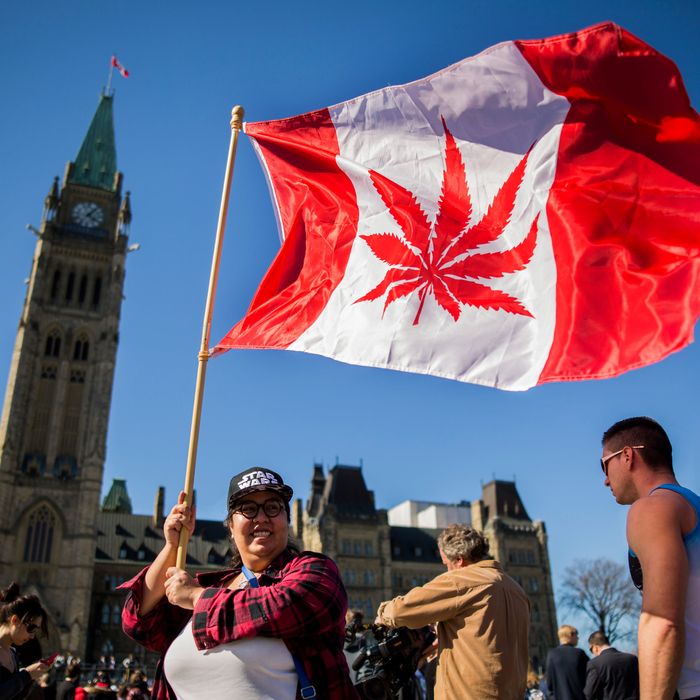 O Canada, we stand on guard for weed.
Photo: Chris Roussakis/AFP/Getty Images
Leaders of Canada's Liberal Party unveiled a proposal Thursday that would make the country only the second in the world to legalize recreational marijuana, allowing Prime Minister Justin Trudeau to deliver on a campaign promise and inching the nation ever closer to replacing the maple leaf on its flag.
The proposal, which the party hopes to make law by July of 2018, sets a minimum purchase age of 18, which is one year below the legal drinking age in most Canadian provinces and three years below the minimum age set in U.S. states that have legalized recreational weed. Provinces would be able to set higher age limits if they so choose. With an eye toward the effects of legalization on minors, the plans calls for "significant penalties for those who engage young Canadians in cannabis-related offences."
Bill Blair, a government official quoted in a release about the proposal, says legal weed will mean less access for kids. "I know firsthand how easy it is for our kids to buy cannabis," he says. "In many cases, it is easier for our children to get cannabis than it is to get cigarettes. Today's plan to legalize, strictly regulate and restrict access to cannabis will put an end to this."
The law would allow adults to legally possess as much as 30 grams of marijuana, around an ounce, in public. It would also allow them to grow as many as four marijuana plants in their homes. The proposal calls on individual provinces to set up their own commercial markets and to determine where, how, and for how much marijuana will be sold. If certain provinces decide against setting up those markets, residents will be able to order weed online.
The government's plan puts an emphasis on the issue of driving while high. Along with a "zero tolerance approach for those driving under the influence," the plan calls for "robust" public spending on a PSA campaign about the dangers of impaired driving. It also says police should be equipped with oral drug screeners that could be used to "facilitate detection and investigation."
For Americans excited by the prospect of scooping up legal weed across the border and bringing it home, there's some bad news. Moving pot across international borders "would remain a serious criminal offence" under the new law. But it doesn't say anything about partaking while you're up there.