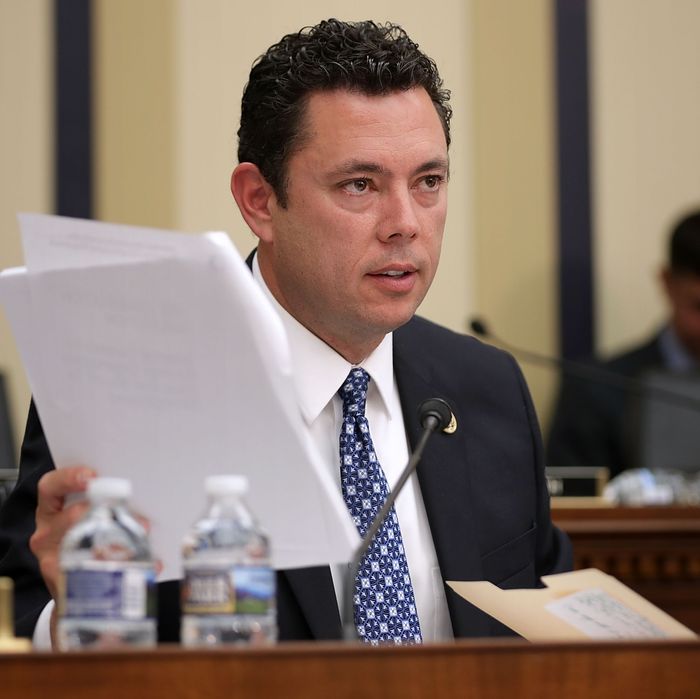 "Yes, you heard right. Enemas."
Photo: Chip Somodevilla/Getty Images
Days before the election, House Oversight Committee Chairman Jason Chaffetz, who led the probe into Hillary Clinton's private email server, told the Washington Post that he was prepared to devote the next few years to investigating the nation's first female president.
"It's a target-rich environment," said the Utah Republican. "Even before we get to Day One, we've got two years' worth of material already lined up. She has four years of history at the State Department, and it ain't good."
But like many others, Chaffetz had his hopes dashed on November 8. Once Donald Trump was elected, he had a hard time coming up with anything worth investigating. Sure, everyone from the editorial board of Chaffetz's hometown paper to Democrats and Republicans on his committee called for him to probe President Trump's many conflicts of interest. But for some reason, Chaffetz's heart just wasn't in it. He made perfunctory calls for President Trump to release his tax returns and scold Kellyanne Conway, but nothing could match the thrill of examining a Clinton email scandal that the FBI had already resolved.
So, earlier this week, Chaffetz announced that he would not seek reelection in 2018. And he's decided to spice up the weirdly scandal-free Trump era by generating his own political intrigue.
On Thursday morning, Chaffetz told Utah's KSL News Radio that he might not even finish out his term. "I will continue to weigh the options, but I might depart early," he said.
There were already a number of rumors flying around about why Chaffetz would opt out of a 2018 run. Some speculated that getting screamed at during town halls was not helping his possible 2020 bid for governor of Utah, others said he may be eyeing a lucrative deal with Fox News, and a few floated wild theories about Russian "kompromat."
Chaffetz offered some more details on Thursday evening, along with plenty of odd remarks to decipher.
"If I do step down early, it will be months from now," Chaffetz told The Wall Street Journal. "It's hard for people to believe, I really do want to be with my family more. Maybe it's more a midlife crisis more than anything else."
But the 50-year-old doesn't want to spend too much time looking family members in the eye. He said he's also exploring private sector work, and hasn't ruled out running for office in the future.
Chaffetz elaborated further on his sudden interest in private sector employment in an interview with Politico. "I started poking around to see what I might be worth and what sort of possibilities are there," Chaffetz said. "And I got a series of 'Let us know when you're serious.' Well now I can say, 'Can you tell I am serious?'… I'll take a little bit of time to sort out. I'd be thrilled to have a television relationship. But there's a number of things I'd like to do."
The congressman did try to rule out one juicy theory, saying, "absolutely, positively not," when asked if he's leaving due to a potential scandal. "Not in any way, shape, or form," he said. "I've been given more enemas by more people over the last eight years than you can possibly imagine. From the Secret Service to the Democratic Party. I am who I am. If they had something really scandalous, it would've come out a long, long time ago."
Now that he's demonstrated his talent for quitting early and using weird metaphors, we're sure the offers will come rolling in.