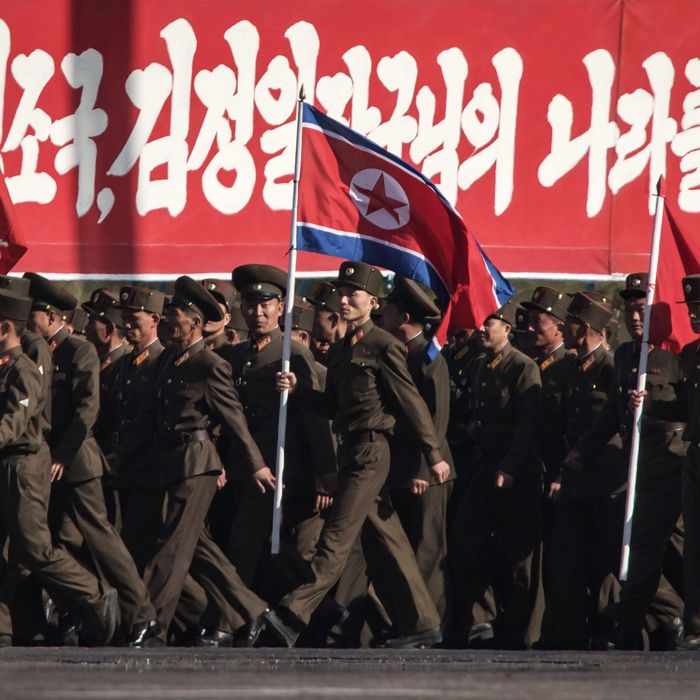 Korean People's Army soldiers march in Pyongyang Thursday.
Photo: Ed Jones/AFP/Getty Images
As the two adolescent leaders of the U.S. and North Korea continue their increasingly tense standoff, China warned both countries on Friday that if war breaks out, "no one will win."
"We urge all parties to refrain from inflammatory or threatening statements or deeds to prevent irreversible damage to the situation on the Korean Peninsula," said Wang Yi, China's foreign minister, according to state news agency Xinhua.
Wang's comments were full of criticism of both countries, which he said are "engaging in tit for tat, with swords drawn and bows bent." As North Korea appears to be nearing a nuclear test, and the U.S. military stages naval forces nearby, Wang implored the countries to communicate.
"As long as dialogue takes place, it can be official or unofficial, through one channel or dual channels, bilateral or multilateral. China is willing to give support to all of them," he said.
Wang's warning comes hours after North Korea released a blustery response to President Trump's recent comments that the U.S. may soon "solve the problem" and "deal with" North Korea.
In an interview with the AP on Friday, North Korea's vice-minister Han Song Ryol accused Trump of "making trouble" and "provocations" with his "aggressive words." The AP adds that Han "cited Trump's tweets as problematic."
In a separate interview with CBS, Han said Trump is "openly pursuing a policy to annihilate North Korea," and added that the country could preemptively strike with a nuclear weapon, if they sense a threat from the U.S.
"If the U.S. comes up with a dangerous military option, then the first card is in our hands. We'll deal with it with our pre-emptive strike. This means war," Han said.

Tracy sought to clarify Han's remark; "So you are saying if you feel North Korea is going to be attacked, you will use nuclear weapons?"

"Of course," Han replied.
The North Korean military also got in on the fun on Friday, with its own statement, saying that American military bases in South Korea are at risk. It also denounced the "maniacal military provocations" coming out of Washington, D.C.
China is not alone in its worry about a potential North Korean nuclear test and the unpredictability of Trump's response. Japan is reportedly discussing plans to evacuate 60,000 citizens from South Korea, and considering how it would handle a wave of North Korean migrants in the event of a war.
Meanwhile, Vice-president Pence is preparing to travel to South Korea amid the drama. He will arrive in Seoul on Sunday, on the first stop of a ten-day Asian tour. What happens if North Korea tests a nuclear weapon the day before Pence arrives in Seoul, as some expect? The White House has "contingency plans," Reuters says.