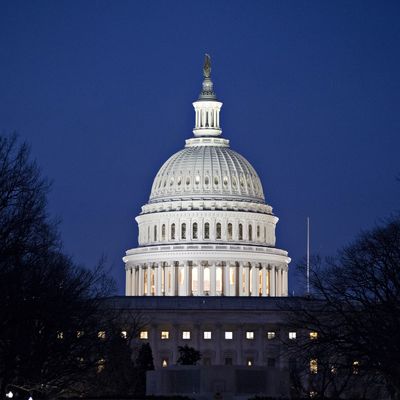 Before the lights went out across the federal government, Congress extended funding for a week, as a longer-term agreement grew closer.
Photo: Andrew Harrer/Bloomberg via Getty Images
Like a born procrastinator who needs deadlines to obtain the motivation to get anything done, Congress waited until the final hours of the appropriations measure enacted last December to pass a one-week extension, thereby avoiding — for now, at least — a partial government shutdown.
House Democrats had threatened to oppose the extension unless House Republicans backed off of having a Friday or Saturday vote on the revised American Health Care Act. As it happened, Paul Ryan canceled the zombie Trumpcare vote because he didn't have the support to pass it. So all but 14 Democrats (and 16 Republicans) supported the stopgap spending bill.
According to most accounts, Democrats and Republicans are close to a deal on an omnibus spending measure that would keep the federal government functioning until the current fiscal year ends on September 30. Republicans have given up earlier "poison-pill" demands for border-wall money (a Trump priority that many of them don't actually want), Planned Parenthood defunding (being handled separately), and domestic budget cuts (which will be pursued in fiscal-year-2018 appropriations bills). Democrats retreated from a demand that an appropriation for the Obamacare insurer subsidies (a.k.a. cost-sharing reduction funds) be included, after the administration abandoned threats to withhold the subsidy payments it has continued making since Trump took office.
Democrats say there are still unresolved disputes over a few items, particularly language Republicans want to include that would scrap a regulation requiring retirement-investment counselors to act in their clients' best interests, and perhaps a fight over defense-spending levels. With Donald Trump as president, of course, anything could happen, beginning with inflammatory remarks he could make upon signing the stopgap bill. But one would assume that after the 100th-day-of-his-presidency landmark has come and gone, his interest level in the details of appropriations negotiations will precipitously drop.