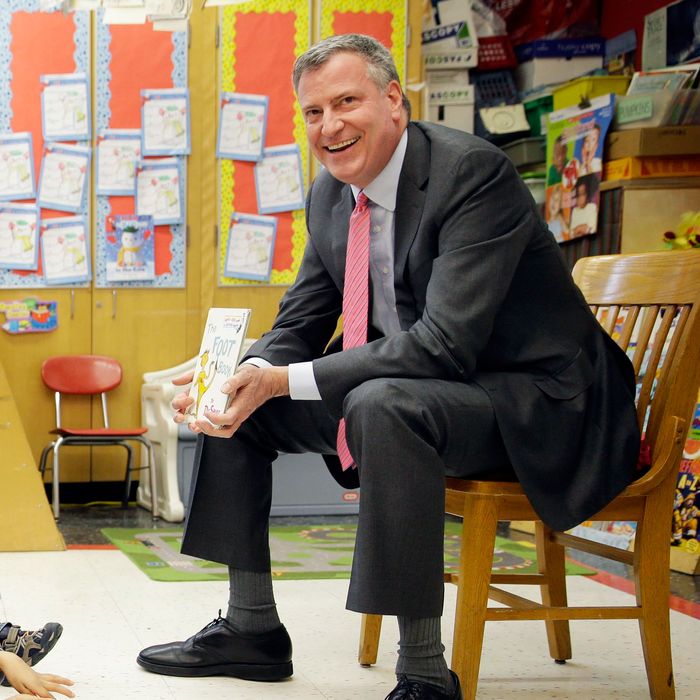 New York City mayor Bill de Blasio talks with children after reading them a book in a prekindergarten class at P.S. 130 on February 25, 2014, in New York City.
Photo: Seth Wenig/Getty Images
Mayor Bill de Blasio announced Monday the expansion of one of his signature programs, saying two New York City public school districts — one in Brooklyn, and the other in the Bronx — will offer free preschool for 3-year-old students next fall. The pilot program will lay the groundwork to introduce free, full-day universal pre-K for 3-year-olds – "3-K for All" – by 2021.
The expanded pre-K would roll out in six more districts in 2020. The city expects to spend an estimated $177 million for the expansion by 2021, but the total cost — nearly $900 million — will require state and federal funding to the tune of $700 million. De Blasio, when asked about the challenges of getting that money, especially from the federal government, said he refused to be "held back by our current reality."
De Blasio said this program is expanding more slowly than that of universal pre-K for 4-year-olds, which now serves about 70,000 students citywide, in part because the city will need to train and recruit even more early-childhood-education teachers.
"It's easy to say in a time of uncertainty, stand back, be cautious, be timid," the mayor said of his plan. "That's not our way. We believe the time is now."