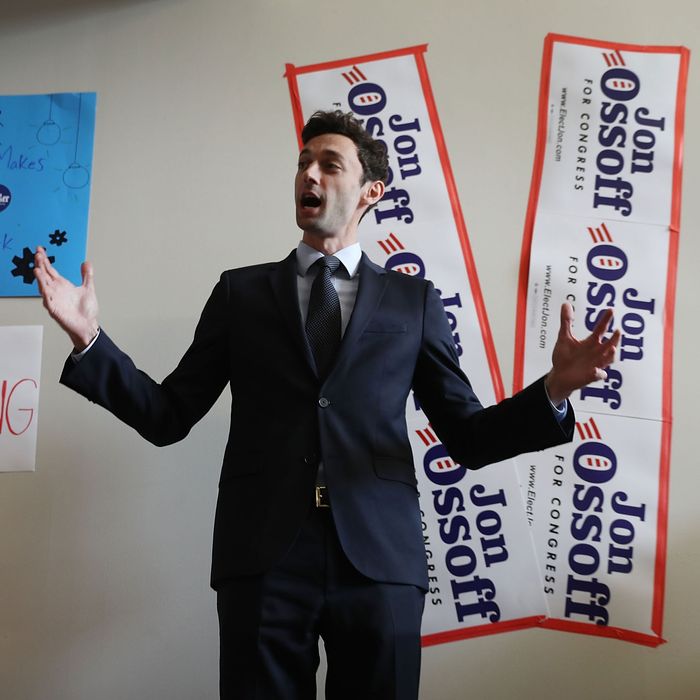 Jon Ossoff.
Photo: Joe Raedle/Getty Images
Hours after Jon Ossoff fell 2 points short of painting the Atlanta suburbs blue, Politico summarized, in a headline, the donkey party's dismay: "Democrats begin to wonder: When do we win?"
In that piece, some Democratic operatives voiced fears that the anti-Trump resistance couldn't live on moral victories alone. Sure, a pro-choice civil-rights attorney, who aligned himself with a self-avowed socialist, had come within 7 points of winning a special election in deep-red Kansas — while a 30-year-old documentary filmmaker had garnered 48 percent of the vote in a Southern bastion of country-club Republicanism. But without securing a bona fide win in a high-profile race, "the current level of runaway enthusiasm" could "sputter out long before the 2018 midterms," the party's strategists worried.
Such pessimism is understandable. After November 8, it's hard to criticize any Democrat who sees the proverbial cup as half full of poison. But at present, the party's base appears neither demoralized nor demobilized. And this month's symbolic victories already appear to be yielding concrete gains.
Every midterm fight begins with recruitment. And the Democrats' surprisingly strong showings in disparate corners of red America are making it harder for Republicans to field their preferred players. As Politico reports:
Potential GOP candidates whom party leaders want to recruit are afraid of walking into a buzz saw, uncertain about what kind of political environment they'll be facing by the time the midterms come around — and what Trump's record will look like.

… [A]s Republican strategists examine [Georgia's] special election, and one for a conservative Kansas seat a week earlier, they're seeing evidence of a worrisome enthusiasm gap. In the run-up to the Georgia election, low-propensity Democratic voters — people who in years past did not consistently turn out to the polls — cast ballots at a rate nearly 7 percentage points higher than low-propensity Republicans, according to private polling by one Republican group. In Kansas, the chasm was wider. Infrequent Democratic voters cast ballots at a rate of 9 percentage points higher than low-propensity Republicans did … Two Republicans, Wisconsin Rep. Sean Duffy and Indiana Rep. Susan Brooks, recently announced they will be forgoing Senate runs.
Meanwhile, Democrats have more would-be candidates than they know what to do with. Vice News reports that 408 Democrats have already declared their intention to run for the House in 2018 — a 58 percent increase over the 259 who had declared by this point in the 2014 cycle:
Normally, DCCC recruiters must fly across the country for several months and camp out in swing districts interviewing and prodding "good profile" candidates to run. But the DCCC has been inundated with what they say are very strong recruits from districts across the country, including traditional Republican strongholds.
There may be no better testament to the anti-Trump movement's combination of enthusiasm and unbridled optimism than this: The Democratic candidate vying for Jason Chaffetz's soon-to-be-vacated seat in Utah's third district, one of the reddest in the country, has already raised more than $500,000.
The surge in declared candidates should quell Democratic fears that the resistance's many marchers would pursue street politics to the exclusion of electoral ones. But it may exacerbate another fear of some Democrats — that the party will enter 2018 racked by internal divisions.
As Vice notes, many of Team Blue's younger 2018 hopefuls are "united by both their dislike of Trump and their distrust of the Democratic Party establishment." In addition to the DCCC's "good profile" challengers, the Democrats have also seen a slew of left-wing political neophytes — many of them eager to take down centrist candidates in primaries — enter the fray. Among these aspiring populist outsiders are "several 27-year-olds, a former writer for The Onion, a 34-year-old Ph.D. student whose campaign staff is made up mostly of friends from Semester at Sea, and a woman who, fitting the times, goes by the name Mad."
Still, any rational party would welcome overcrowded primary fields over barren ones. Last fall, Hillary Clinton won House districts where Democrats didn't even bother to mount a candidate. In 2018, the party is poised to have candidates in every remotely winnable race (and in quite a few unwinnable ones).
In any case, divisions are a much bigger problem for the party in power. Right now, some Republicans believe the GOP desperately needs a legislative win on Obamacare repeal to improve its 2018 fortunes; others are anxious to pass new appropriations shoring up Obama's signature law.
The more candidates that Democrats recruit in swing districts, the less interested vulnerable Republicans are going to be in reviving plans to throw millions of people off of their health insurance. And while moral victories are less sweet than electoral ones, policy wins are better than both.