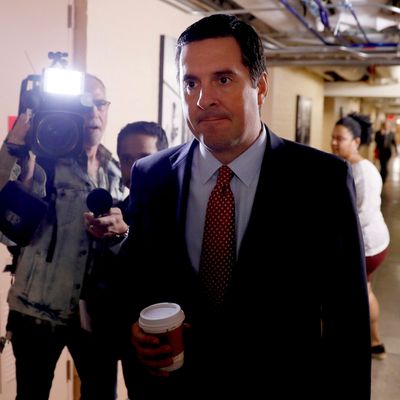 Nunes.
Photo: Aaron P. Bernstein/Bloomberg via Getty Images
Devin Nunes is leaving the House's Russia investigation to spend more time defending himself against charges of ethical violations.
As chair of the House Intelligence Committee, the GOP lawmaker had led the lower chamber's investigation into Russian interference into the 2016 election. But after James Comey confirmed that the FBI was investigating the Trump campaign's alleged complicity in that interference, Nunes steered the House's inquiry in a strange new direction.
Specifically, the day after Comey's revelation, Nunes met with a secret source on White House grounds. Less than 24 hours later, he announced that members of the Trump transition team had been legally, incidentally surveilled during the final months of the Obama administration. He did this without consulting his fellow Intelligence Committee members, and proceeded to personally brief the president — an ostensible subject of his House investigation — on the intelligence reports that he had just discovered.
Nunes then told Fox News that he felt that he had "a duty and obligation" to brief the president on his findings, because Trump had "been taking a lot of heat in the news media." Next, the House Intelligence chair canceled a hearing at which former acting attorney general Sally Yates was set to testify about the firing of Michael Flynn — over the Trump administration's objections.
In a subsequent interview with the Los Angeles Times, Nunes explained, "There's a story … that the Trump administration asked me not to invite Sally Yates and not have a hearing, which is 100% accurate, I mean inaccurate." (It is unclear from Times' account whether or not Nunes then said, "Yeah, inaccurate, that's the ticket," under his breath).
These actions enraged the committee's Democrats, while paralyzing the committee's investigation into Russia. They also may have put Nunes in legal trouble. On Thursday, the congressman announced that he is under investigation by the House Ethics Committee for allegedly disclosing classified information without proper authorization — and, therefore, will be stepping aside from the House's Russia investigation.
"The charges are entirely false and politically motivated, and are being leveled just as the American people are beginning to learn the truth about the improper unmasking of the identities of U.S. citizens and other abuses of power," Nunes said in a statement.
He will hand over responsibility for leading (and/or sabotaging) the House's Russia investigation to Republican congressman Mike Conaway.