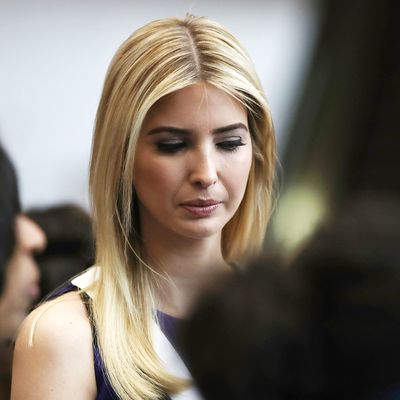 Ivanka Trump.
Photo: Win McNamee/Getty Images
Fresh off her appointment as "special assistant to the president," Ivanka Trump gave an interview with CBS discussing her new role. (Remember before the election, when she swore she wouldn't want a White House position even if her father won? Simpler times.) In the interview, Trump addressed comments that she's complicit in her father's administration. She said she's only complicit if the definition is "wanting to be a force for good and to make a positive impact." She followed up by saying she does not "know what it means to be complicit."

Similarly to what happened after Kellyanne Conway spoke about "feminism," dictionary searches for the word complicit spiked. And, also similarly, Merriam Webster was quick to point it out on Twitter, with a handy link to the definition for the president's newest special assistant, as well as anybody else who might be googling.
Complicit. Adjective. Meaning "helping to commit a crime or do wrong in some way." Alternatively, the name of a very good SNL skit.