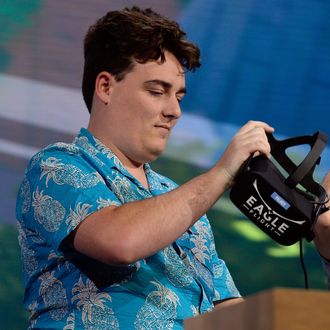 Palmer Luckey.
Photo: Kevork Djansezian/Getty Images
Palmer Luckey is back! You may recall that months ago, the virtual-reality wunderkind was mothballed by Facebook and Oculus, after it was revealed that he was the mysterious funder behind the Nimble America political-action committee, which sought to prove that "meme magic is real" by way of "shitposting" and trolling on social media during election season.
After Luckey confirmed that he had funded the operation, which set up an anti–Hillary Clinton billboard outside Pittsburgh and … not much else, Facebook squirreled him away. He did not appear at public events for Facebook, though he did show up to testify in an intellectual-property lawsuit a couple of months ago. Last month, it was announced that he had parted ways with Oculus and Facebook.
But Luckey wasn't just sitting around twiddling his thumbs. According to financial documents reviewed by Mother Jones, Luckey donated $100,000 to President Trump's inauguration through a shell company, Wings of Time, LLC. (A giveaway: The name is a reference to the classic RPG Chrono Trigger.) That company is managed by another entity, of which Luckey is the sole officer. Wings of Time also shares its address with a third company registered to Luckey. (Luckey's net worth is estimated to be around $700 million.)
The multimillionaire did not comment on the discovery, though the donations do refute an oft-repeated defense of Nimble America from last fall. Luckey's defenders argued that the PAC was anti-Clinton, rather than explicitly pro-Trump — a splitting of hairs that gave the group some slight leeway. Luckey's donation to Trump's inauguration would seem to fly in the face of those arguments.
Yesterday, Luckey appeared on Twitter for the first time in six months to talk about posting pictures of Sword Art.
Asked about why he had donated to Trump's inauguration, Luckey implied that he was greasing the wheels of politics in the way most big corporations do.
Intel, Microsoft, Qualcomm, Coca-Cola, and Wings of Time. The big five.