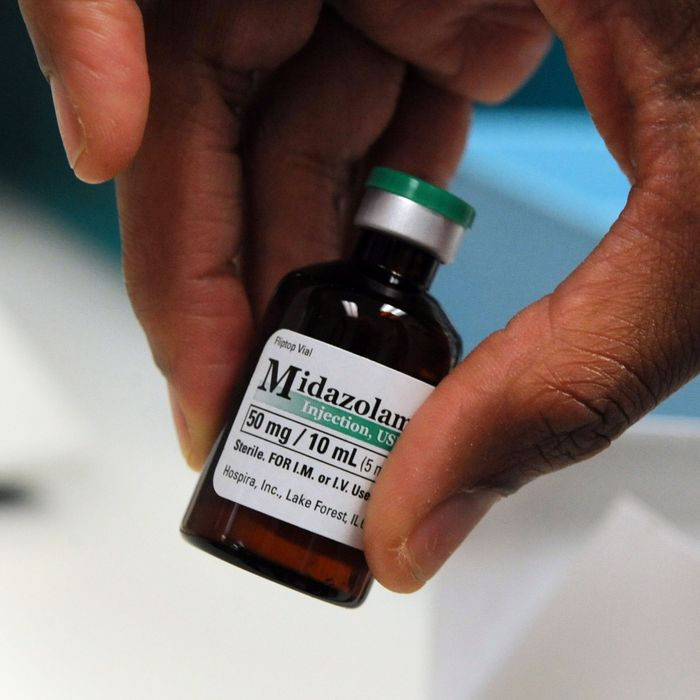 The sedative midazolam is one of the drugs Arkansas is alleged to have obtained improperly.
Photo: Tracy A. Woodward/The Washington Post/Getty Images
Two European drug companies that say Arkansas improperly obtained their drugs have asked a federal judge to stop the state from using them in the planned executions of seven inmates over ten days.
Fresenius Kabi USA and West-Ward Pharmaceuticals Corp. filed briefs Thursday that say the companies have rules preventing the distribution of their drugs for use in lethal injections. Distributors of the drugs agree not to sell them for executions, The Atlantic reports, but Arkansas found one willing to break that agreement and promised not to reveal its identity.
In addition to the broken rules, the companies are upset that their drugs will be used to kill, which is an obvious PR hit. "The use of the medicines in lethal injections runs counter to the manufacturers' mission to save and enhance patients' lives, and carries with it not only a public-health risk, but also reputational, fiscal, and legal risks," the filing said.
Arkansas is set to begin its execution spree on Monday as it hurries to put inmates to death before its supply of the sedative midazolam expires. The drug, which was reportedly manufactured by West-Ward Pharmaceuticals, is the first drug delivered in lethal injections and it has a spotty track record.
After the two planned executions Monday, two more men are set to die on April 20 and two more again on April 24. On April 27 the state will kill only one man after the eighth death-row inmate scheduled to die was granted a stay earlier this month.
The inmates have challenged the state's plan in court and hearings in that lawsuit ended Thursday. A decision is expected to be handed down before the first execution Monday.