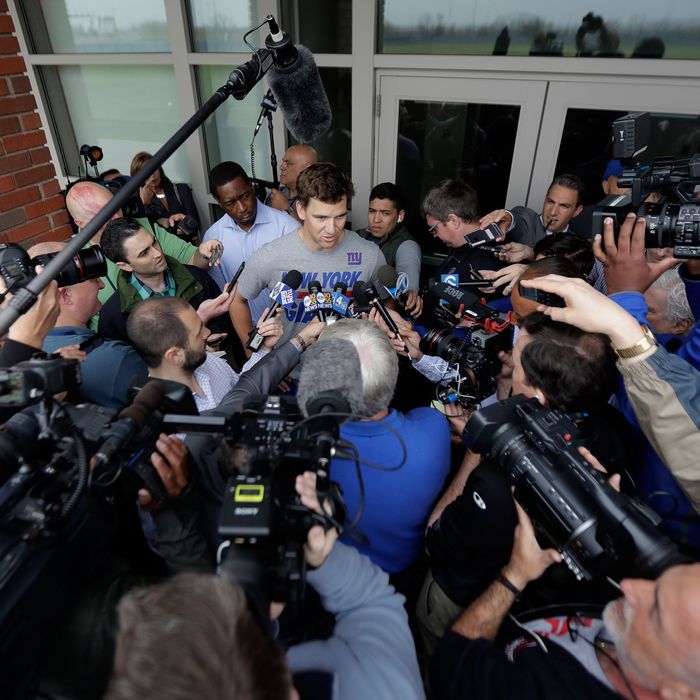 Eli Manning and microphones.
Photo: Julio Cortez/AP Photo
Eli Manning, whose stunning lack of personality is as integral to his public image as that slack-jawed gaze, has always seemed more likely to get caught licking a football to see if it tastes like bacon than to be accused of running a criminal enterprise.
But three years ago the New York Giants' quarterback was sued for orchestrating a fake memorabilia scam and last week "proof" appeared to surface. Turns out, even goobers can be (alleged) crooks.
Manning, for his part, denies it all. On Thursday, he spoke publicly about the accusations and addressed recent comments from New Jersey governor Chris Christie, who called him a "liar."
"I will say I have never done what I have been accused of doing," Manning said, declining to go into much detail. "I have no reason nor have I had any reason to do anything of that nature. I have done nothing wrong and I have nothing to hide, and I know when this is done everyone will see it the same way."
Filed by New Jersey sports-memorabilia collector Eric Inselberg in 2014, the lawsuit against Manning and others in the Giants organization resurfaced this month after emails appeared to show Manning admitting the con. Last week, the New York Post reported that new court documents included an email from Manning to an equipment manager asking for "2 helmets that can pass as game used." Manning said the message was taken out of context.
The renewed interest in the case led Christie to weigh in while guest-hosting Boomer & Carton on WFAN. "He got caught," Christie said, referring to "the liar Eli Manning."
A liar himself, who has also been caught, Christie knows of what he speaks. But Manning refused to dignify the governor's insult on Thursday.
"I can't get concerned with that," he said of Christie's remarks. "I think, again, my track record speaks for itself and so do the Giants, their history, and their history of doing things the right way speaks for itself."
The civil racketeering suit is set to go to trial in September, just as the Giants' season begins.