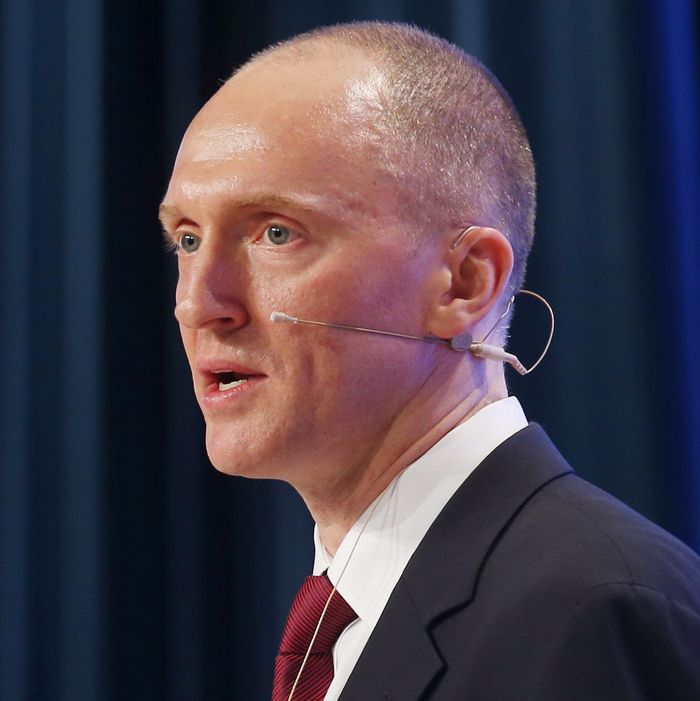 Carter Page.
Photo: Artyom Korotayev/Artyom Korotayev/TASS
Owen Ellickson, a writer and producer whose credits include The Office, Superstore, and Other Space, spent much of the presidential campaign tweeting revealingly false missives from inside Trumpland. Now, he has acquired a trove of leaked documents from inside the Trump White House, which Daily Intelligencer will publish over time as a series. We caution you that these documents are, as yet, unverified.
SecretAgent_Man
45 • Washington, D.C.
My self-summary
I'm a heteroflexible demisexual alpha-beta Minnesota drawler who's looking to have a terrific and discreet time. Come be my partner in crime! (That's an expression; to date I have not been charged with any crimes.)
What I'm doing with my life
Hiking, advising 2016 presidential campaigns (can't tell ya which but let's just say we did pret-ty well), cooking, consulting for oil companies, traveling, collecting shells I find … heck, it'd be easier to tell you what I'm not doing! One thing I'm not doing: interacting in any way with officials representing the Russian government, knowingly, anyway. I hope to watch birds someday.
I'm really good at
I make a killer Denver omelette. I can shave the heck outta my head. And I'm very good at not having contact with Russian officials that are subject to U.S. sanctions, other than maybe Igor Sechin and a couple other guys. That's all I'm gonna say. Can't risk revealing my identity, here. Sorry, lovebirds!
Favorite books, movies, shows, music, and food
I don't like books, which is ironic, because they're filled with pages, which is my last name, kinda. Movies: it's gotta be Transformers! My favorite show is Agent Carter, because it's about the kind of work I do, and her last name is my first name. Musicwise, I like top hits. Food: yes, please!
The six things I could never do without
• M'Bible.
• Coffee!!!
• The Constitution, which I revere, and as far as I know do not violate.
• A complete, unwavering sense of discretion.
• My business partner, former Gazprom executive Sergei Yatsenko.
• My awesome name, Carter William Page.
I spend a lot of time thinking about
How unfair it is that some people travel to foreign countries all they please, while when other people do it becomes this big deal, where the FBI says they're knowingly engaging in clandestine intelligence for that government, and a federal judge concludes there's probable cause to believe that. Barack Obama's been to Russia … I don't see five U.S. intelligence agencies investigating him! I also think about dogs. What are they up to?
On a typical Friday night I am
Sitting back with a mint julep, talking with contacts and family — make that FRIENDS and family — and not meeting with Russian ambassador Sergey Kislyak during the Republican National Convention in Cleveland, Ohio. That has only happened once, and even that time it didn't happen. I have a rowing machine … I don't use it, but some Fridays I wish I did.
You should message me if
… you love coffee! And fun! And long conversations, outside, far away from buggable objects like lamps and pens! I like all types, provided that you don't work for any intelligence agencies, but what are the odds that you would? Sorry I have to be so secretive online, but I promise, if we get together, I'll be a completely open book!