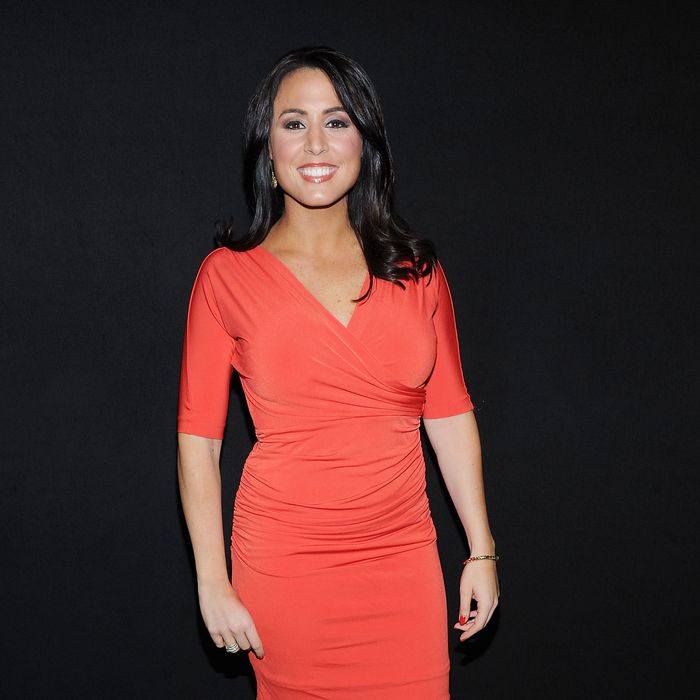 Andrea Tantaros
Photo: Jamie McCarthy/Getty Images
The Fox News lawsuits keep coming. Former Fox host Andrea Tantaros filed one in federal court today alleging that network operatives hacked her phones and emails to conduct a smear campaign against her after she reported sexual-harassment complaints against former CEO Roger Ailes and Bill O'Reilly. In addition to Ailes, the suit names current co-president Bill Shine, PR executive Irena Briganti, and social-media consultant Peter Snyder as defendants.
Tantaros's suit, filed in the Southern District of New York, details a shadowy plot that evokes the current season of Homeland. Tantaros accuses Peter Snyder, who runs the investment firm Disruptor, of orchestrating an army of Twitter sock-puppet trolls to harass her. Fox News operatives, according to Tantaros, also monitored her phone calls and emails, and used the information they acquired "to intimidate, terrorize, and crush her career through an endless stream of lewd, offensive, and career-damaging social media posts, blog entries and commentary."
Tantaros alleges the hacking began around the time she was taken off the air in April 2016, after speaking up to network bosses about harassment at Fox News. (The network said her removal was for failing to get a sign-off from the company on her book.) According to the suit, "a forensic analysis of Ms. Tantaros's computer revealed that it contained unique surveillance viruses that are not found in any mass malware." Tantaros says that she has information that proves "a person working for Fox News was responsible for hacking [her] computer so that she could be spied upon." The suit cites multiple examples of things Tantaros discussed in private phone conversations that soon ended up in tweets directed at her.
Snyder is a longtime Fox News contributor (the network ended his contract last month, a source said). A recent Salon profile chronicled social-media operations he ran for Ailes. Snyder's company, according to Salon, created anonymous websites such as "Girls of Fox News" that included crude comments about female Fox anchors.
Tantaros describes a conversation with Snyder that allegedly took place a couple years before the alleged hacking, when she visited his Nantucket house in August 2013. (Tantaros had become friends with Snyder through his wife, whom Tantaros met when they were Republican aides on Capitol Hill.) "Snyder proceeded to tell Ms. Tantaros about the work he did for Fox News, explaining that Bill Shine would call him and give him instructions from Ailes as to whom he should target as an enemy through sockpuppet accounts, fake websites and internet trolling," the suit says. "Mr. Snyder told Ms. Tantaros that he used an 'army' of independent contractors to complete assignments, and that Disruptor was used to employ these contractors." (A spokesperson for Snyder denies this.)
Fox News' legal counsel, Dechert, LLP, released a statement describing the allegations as false. "Fox News and its executives flatly deny that they conducted any electronic surveillance of Ms. Tantaros," the statement reads. "They have no knowledge of the anonymous or pseudonymous tweets described in her complaint. This lawsuit is a flimsy pretext to keep Ms. Tantaros and her sexual harassment claims in the public eye." And Randy Mastro, a lawyer for Snyder, also denied Tantaros's claims, saying Snyder stopped doing social-media campaigns for Fox in 2012. "Andrea Tantaros' lawsuit against Pete Snyder is a sham and a shakedown," he said in a statement. "It will be thrown out of court because it is meritless, time-barred, and subject to arbitration in any event."
The Tantaros suit presents significant new problems for Fox News as the network seeks to move on from the O'Reilly scandal, and federal prosecutors continue their investigation of the network. For one thing, Tantaros names Fox's current leadership, including Shine and Briganti, and provides new details of the Fox News "black room" that I reported on last year. According to the suit, Bill Shine personally directed Synder's social-media smear campaigns against Fox's enemies. The lawsuit also marks the first time a former Fox News personality has alleged that the network actually hacked into her phone — conduct that evokes the News of the World scandal.
The suit also describes surveillance operations that private detective (and current mayoral candidate) Bo Dietl allegedly ran against journalists on behalf of Fox. "Dietl, at the request of [general counsel] Diane Brandi [sic], illegally secured journalists' phone records and credit reports," the suit states.
Dietl denies obtaining phone records. "If Roger Ailes hired someone to do all this bullshit, it wasn't me," he said.
This is not the first time Tantaros has sued Fox. Last August, she filed a suit in New York state court, but the judge in that case ruled to move the matter to private arbitration. Tantaros is being represented by Judd Burstein, the lawyer who successfully negotiated a reported $8 million settlement for former Fox News PR chief Brian Lewis.