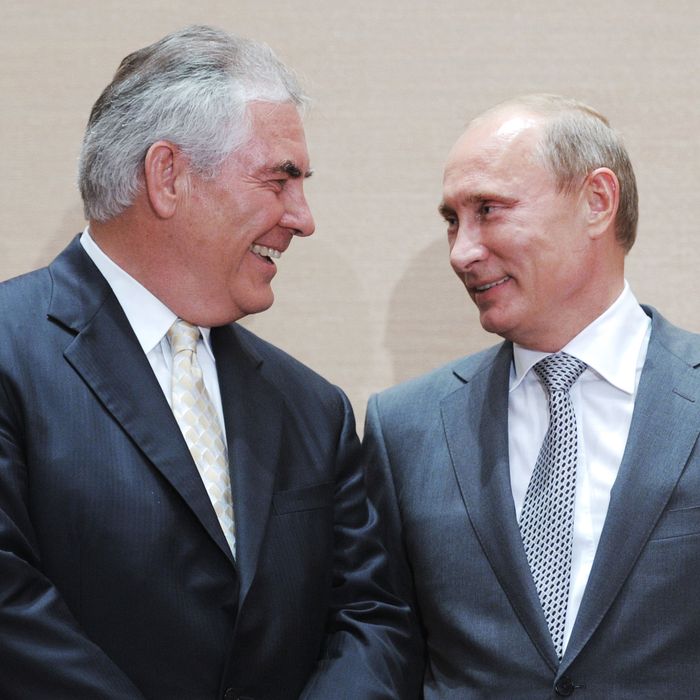 All is fair in love and oil production.
Photo: Alexey Druzhinin/AFP/Getty Images
Typically, when a company requests special permission to be exempted from U.S. sanctions, it provides the government with an argument for how granting such a waiver would advance the public interest. For example, tech companies successfully sought waivers from the Obama administration to operate in Iran and Syria, on the grounds that facilitating the exchange of information in those nations would weaken their repressive regimes.
But Exxon has opted to forego that nicety. Rex Tillerson's former company is asking the government for a waiver allowing it to resume its joint venture with Rosneft, Russia's state-owned oil company, to pump billions of barrels of oil out of the Arctic, Siberia, and the Black Sea — on the grounds that such a waiver would be good for Exxon's profitability, according to a new report from The Wall Street Journal.
To be fair to Exxon, it would be exceptionally difficult to argue that allowing the company to unearth a bunch of oil that humanity can't afford to burn — while providing Putin's government with much-needed revenue — serves America's national interest. Especially now that the company officially believes that "the risk of climate change is clear and the risk warrants action."
By contrast, it's quite easy to argue that allowing Exxon to lend Rosneft its drilling technology will serve the interests of the company's shareholders. As the Journal explains:
Exxon opposed how the Obama administration applied sanctions on a number of its projects, according to people familiar with the matter, in part because the European Union granted waivers to its competitors to continue operating. Norway's Statoil ASA has a waiver for Arctic drilling in the Barents Sea. Italy's Eni SpA is allowed to operate in the Barents and Black seas, and has been aggressively exploring in cooperation with Russia.

"Exxon is worried it could get boxed out of the Black Sea by the Italians," said a person briefed on the company's waiver application.

… Under the terms of its deal with Rosneft, Exxon needs an oil discovery in the Black Sea by the end of this year to obtain a Russian government license to drill. Unless Exxon receives approval soon, there might not be enough time to safely drill an exploratory well to be able to develop any discoveries, said oil industry experts.
There is a lot of money at stake here, for both Exxon and Putin's government. The oil company has reported that it is exposed to up to $1 billion in losses from the Rosneft deals if sanctions aren't lifted. Exxon and Rosneft were expected to invest hundreds of billions over the lifetime of their joint projects, before Putin invaded Crimea and the ensuing sanctions put their collaboration on ice.
And without the aid of Western expertise on underwater drilling, Russia will struggle to sustain its already flagging oil revenues, as Vox's Brad Plumer has noted.
[Russia] is currently one of the world's largest producers of crude, pumping out 10 million barrels per day (about 10 percent of global supply). But its older fields are in decline, and the country is unlikely to sustain current levels of production past 2020 unless it develops its untapped fields, a recent report from the Wilson Center found. Given that oil and tax revenues fund half of Russia's national budget, a long-term decline would have severe repercussions for the country, perhaps even risking political instability.

To avoid that fate, Russia desperately needs to bring back Western companies with the expertise to drill in unconventional areas. "If Russia could do this all by itself, without Western help, they already would've done it," says Edward Chow, a longtime industry veteran who is now an energy policy expert at the Center for Strategic and International Studies. "But they can't."
Exxon is seeking its waiver from the Treasury Department. But the State Department will also have a say on its application. Secretary of State Rex Tillerson was, of course, CEO of Exxon until he joined the Trump administration. In that capacity, Tillerson worked closely with Putin to cement the Rosneft deals — earning himself Russia's 2013 "Order of Friendship" in the process.
Tillerson has already pledged to recuse himself from all Exxon-related matters. And there's little reason to suspect that he'll covertly aid the company he once ran. After all, the only reason Tillerson agreed to lead a federal department that has the power to erase one of Exxon's biggest liabilities is because his wife told him to! (Ostensibly, Mrs. Tillerson also told multiple former high-ranking government officials who take money from Exxon to lobby the Trump administration on her husband's behalf.)