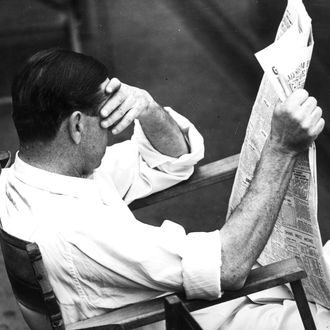 Photo: Fox Photos/Getty Images
Ahead of a pivotal French presidential election, Facebook has eliminated 30,000 accounts that the company identified as spreading misinformation and spam. Facebook's increased efforts to identify and stomp out coordinated misinformation campaigns come as it faces increased scrutiny and the threat of tighter regulation in Europe, where speech laws are generally more restrictive than the First Amendment in the U.S.
"While these most recent improvements will not result in the removal of every fake account, we are dedicated to continually improving our effectiveness," Facebook's technical program manager Shabnam Shaik wrote in a blog post. "Our priority, of course is to remove the accounts with the largest footprint, with a high amount of activity and a broad reach."
In addition, according to Reuters, the company has strengthened its ability to identify accounts being run through automated methods, meaning that it can more easily identify bad actors whose level of influence is smaller than that of popular accounts.
On Thursday, Facebook also took out a full-page ad in a German newspaper, complete with tips on how to better identify fake news and misinformation. It is also employing third-party fact-checking operations to examine content.