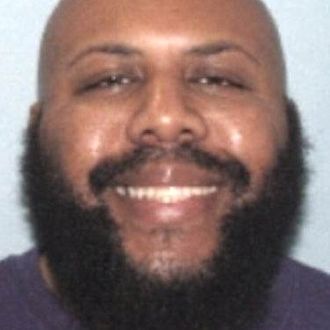 Steve Stephens.
Photo: Cleveland Police
The suspect who murdered a 74-year-old Cleveland man and posted the video to Facebook is now dead, say police. An interstate manhunt for 37-year-old Steve Stephens had been underway since Sunday, after he allegedly randomly targeted Robert Goodwin Sr. — who had been returning from his Easter dinner — and posted the video of the fatal shooting on Facebook. More than 24 hours later, on Tuesday, Pennsylvania State Police spotted Stephens's vehicle in Erie County. Authorities attempted a traffic stop, and according to police, after a brief chase, Stephens reportedly turned the gun on himself and committed suicide.
The days-long manhunt spanned five states before ballooning into a national search. The FBI had received more than 400 tips, but Stevens eluded authorities until the encounter Tuesday. Stevens had posted other videos to Facebook — which have since been removed — where he blamed his girlfriend, Joy Lane, for what he called the "Easter Sunday Joy Lane massacre." Stevens also claimed, on videos posted to Facebook, to have murdered more than a dozen people, but police say they have found no additional victims.