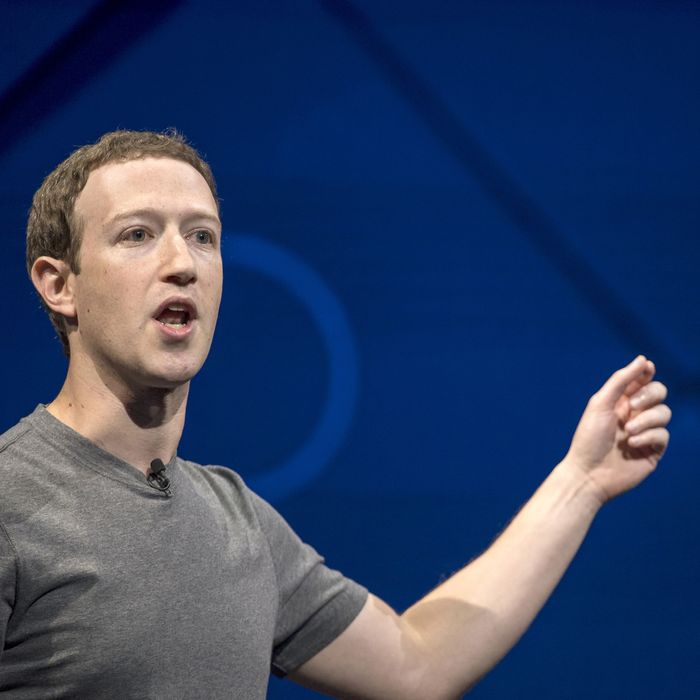 Photo: David Paul Morris/Bloomberg via Getty Images
In the first day of its developer conference, F8, Facebook took the wrapping paper off of a bunch of interesting, if unproven, technologies. Most interesting, and clearly most exciting for Facebook itself, is the company's augmented-reality platform, which Facebook is opening up to let developers make their own Snapchat-like — I mean, Facebook-like — frames and filters and masks. Demonstrations of AR and VR technology used for social interaction, community art, and other wholesome purposes formed the foundation of the day's talks; Mark Zuckerberg noted that the company has a long road map dedicated to the vague, lofty goals of bringing communities together, hearing a wide variety of opinions, and keeping people more informed.
Left unmentioned in Zuckerberg's keynote, and barely touched on elsewhere in the day's talks, was the product that most people identify with Facebook, that makes it most of its money, and that is most often cited as partially responsible for increased polarization, misinformation, and antipathy: the Facebook News Feed, which uses a myriad of likes, clicks, and stated interests to show you the stuff that it thinks you most want to see.
That's not quite true: The News Feed and its associated products were prominently mentioned once. At the top of the program, Zuckerberg spoke briefly about this weekend's shooting in Cleveland, video of which was uploaded to Facebook before the killer made a live broadcast. "We have a lot more to do here. We're reminded of this this week by the tragedy in Cleveland," he said. "Our hearts go out to the family and friends of Robert Godwin Sr., and we have a lot of work, and we'll keep doing all we can to keep tragedies like this from happening."
There are three primary truths about the News Feed. The first is that it's Facebook's cash cow. No matter how popular Instagram, Facebook Messenger, and WhatsApp are, it's the News Feed — and its 2-billion-strong audience just waiting for targeted advertising — that makes Facebook most of its money.
The second is that it's very powerful. As the central broadcast location for Facebook's 2 billion users, it's the place that anyone — publishers, politicians, activists, and advertisers — who wants a piece of that Facebook audience needs to be. The virality of most things lives and dies by how well they harness the power of news feeds, as does the traffic driven to most media websites.
The third primary truth about the News Feed is that it sucks, for users and for the publishers that create large swaths of its popular content. Recent reports from Digiday and the Verge indicate that Facebook's "Instant Articles" program, designed to encourage publishers to host content on Facebook itself, is losing some of it partners. According to Digiday, the New York Times "stopped using Instant Articles after a test last fall that found that links back to the Times' own site monetized better than Instant Articles." The CEO of a trade group representing publishers like Condé Nast, ESPN, and Vox told the Verge that the "revenue [from the Instant Articles program] in no way backed up the amount of time that was being spent on it."
Worse, and scarier for Facebook, is that the News Feed is an alienating and difficult experience for the everyday users who make up its main audience. When it first launched in 2007, the News Feed was a convenient way to find out what friends were up to. But as the size of each user's friends list grew, users began to suffer from what researcher danah boyd has termed "context collapse," the difficulty of maintaining multiple personas under a single digital identity. You interact with your family in one way, your close friends in another, contacts from work in yet another way, and so on and so forth. Last year, Facebook began to worry about a decline in users posting information about themselves, which the company needs for ad targeting, its bread and butter.
That's why Snapchat poses such a threat to Facebook. Unlike the News Feed, which is structured around the increasingly perilous act of posting publicly (or so widely accessible it might as well be public) online, Snapchat is focused around private messaging, one-on-one or in small groups. And the posts are, by default, temporary. The one-to-many mode of broadcasting doesn't suit the average social-media user, it only suits people and companies that want to "build their brand" and amass a following.
This is why News Feed, Facebook's most powerful tool, its kingmaker, went unmentioned at this year's keynote. The News Feed has been hollowed out, filled with mass-market viral junk — or, worse, horrifying crimes — and a lack of anything truly interesting from your friends. It's all going down in the DM. On your desktop, too, News Feed is still the first thing you see when you load Facebook; but on mobile, where most social-media activity is taking place, the News Feed has been pushed down, replaced by two different message inboxes, a fun camera gizmo, disappearing Stories, and a host of other tools.
Facebook knows that people still check their News Feed — and knows that the News Feed still writes its checks — but it also knows that the Feed isn't the future of the company. Its leaders are already focused on what's next, even if they're not quite sure what it is.