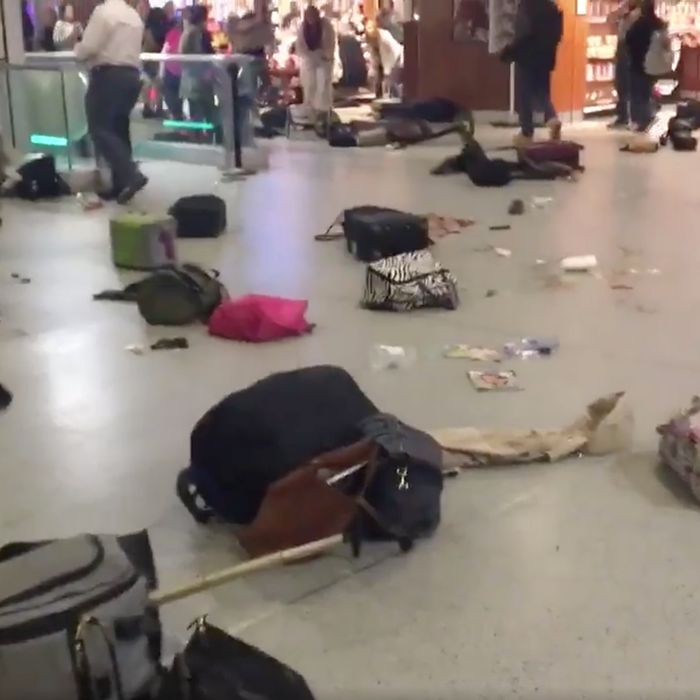 Luggage and belongings that were discarded by fleeing commuters.
Photo: Screencap/Erica Byfield/4NY/Twitter
Sixteen people were injured when a stampede of terrified commuters rushed to escape Penn Station in New York City on Friday night following a false report of gunfire. The mayhem began when Amtrak police attempted to subdue a belligerent man in the station by shooting him with a Taser. Bystanders mistook the popping sound of the Taser for a gunshot and began to run away, which in turn triggered a chain reaction of panic throughout the station. Many in the crowd dropped their luggage and belongings as they fled, and some tripped and fell in the surge of people rushing to escape:
Others hid in stores or behind pillars or other objects inside the station:
Here is video of police subduing the man after firing the Taser:
Penn Station was already crowded on account of massive delays caused by a stalled NJ Transit train.
The panic even spread to the nearby Macy's department store, where additional false reports of a shooting led to an evacuation:
Eventually, police were able to defuse the chaos and restore order in the area. The FDNY said on Friday night that 16 people were ultimately treated for non-life-threatening injuries suffered during the stampede at Penn Station.