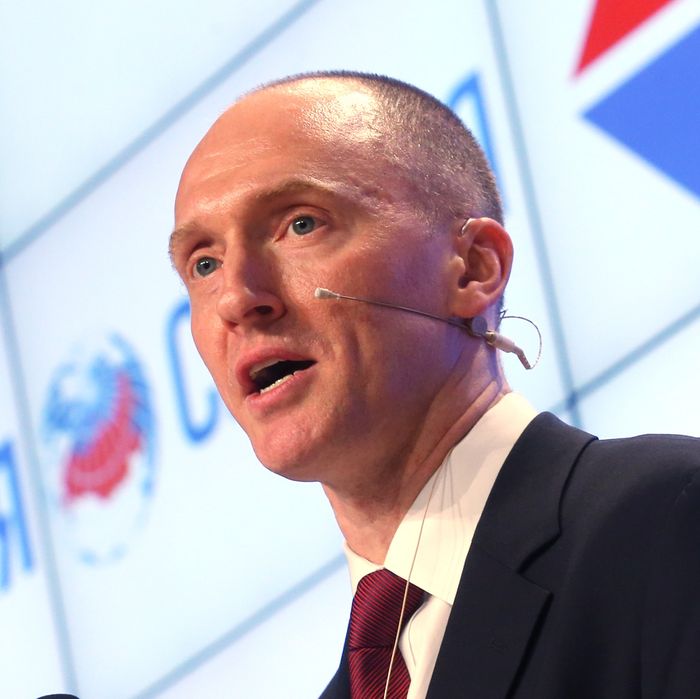 Carter Page delivers a presentation in Moscow on December 12, 2016.
Photo: Artyom Korotayev/Artyom Korotayev/TASS
There have been multiple reports that the FBI went to a Foreign Intelligence Surveillance Court and attempted to obtain a warrant to surveil members of the Trump campaign suspected of making contact with Russian officials. In January, The Guardian said the FBI applied for a warrant for four members of the Trump team, but it was rejected. At the time, it was unclear if the court ever approved that request or any others, and who the targets might be.
On Tuesday the Washington Post reported that the FBI did obtain a court order to monitor the communications of at least one Trump associate: former foreign-policy adviser Carter Page. The warrant was issued last summer, according to U.S. officials, as part of the investigation into the Trump campaign's possible ties to Russia. That means a FISA court found there was probably cause to believe that Page was acting as the agent of a foreign power. Officials said the 90-day warrant has been renewed by the FISA court more than once, but it's unclear if Carter is still under surveillance.
Page worked as an investment banker in Moscow and has extensive business ties in Russia. The government's application for the FISA warrant was said to include Page's previously reported meeting with a Russian intelligence operative in New York City in 2013, among other contacts.
The unverified dossier compiled by a former British intelligence agent claims Page met with Igor Sechin, the CEO of the Russian state oil company Rosneft and a confidant of Russian president Vladimir Putin, during a trip to Moscow in July. Both men have denied this, but Page said he did briefly meet with Russian Deputy Prime Minister Arkady Dvorkovich during the trip.
Page told several media outlets that he finds the report about the FISA warrant "very encouraging" because he believes it will ultimately prove he was unfairly targeted by the government for his support of closer U.S.-Russia ties.
"I was so happy to hear that further confirmation is now being revealed. It shows how low the Clinton/Obama regime went to destroy our democracy and suppress dissidents who did not fully support their failed foreign policy," he told the Daily Beast.
Though FISA warrants are difficult to obtain and many of the judges on the court are Republican appointees, Page went even further, comparing his situation to the FBI's surveillance of Martin Luther King Jr. It's not the first time he's made that point: