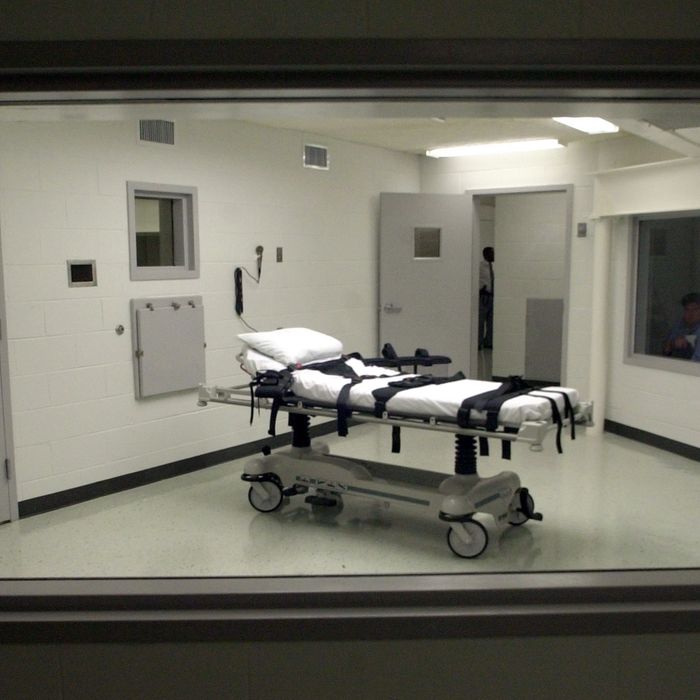 A lethal-injection chamber.
Photo: Dave Martin/AP
A federal judge in Arkansas has blocked the state's controversial plan to execute seven men over the course of less than two weeks. The executions had been set to begin on Monday, but Judge Kristine G. Baker halted the plan on Saturday, ruling that the inmates' legal case may ultimately succeed. The office of Arkansas's attorney general responded by saying that it will appeal the "unfortunate" ruling. That ruling will ultimately be reviewed by the mostly conservative Eighth Circuit Court of Appeals, but it's not clear if Arkansas will be able to win in court and proceed with the executions before one of their lethal-injection drugs expires and becomes unusable at the end of April. That deadline was the reason the state set the rapid pace for the executions in the first place.
Eight men had originally been scheduled to die under Arkansas's rapid plan, but Baker's ruling — which applied to all eight condemned men as well as a ninth death-row inmate — followed other successful legal challenges to the state's efforts. One of the eight men had already been granted a reprieve by a judge, and on Friday, the execution of a second man was blocked by another judge's emergency stay. Also on Friday, a circuit court judge issued a restraining order blocking the state's use of its stockpile of vecuronium bromide — one of the three drugs Arkansas intended to use in the lethal injections. That ruling, which the state is also appealing, was in regards to a complaint from the company that supplied the drug to the state.
In Baker's decision, she agreed with the plaintiffs' Eighth Amendment argument that the state's planned use of the sedative midazolam in its three-drug lethal-injection cocktail would violate the inmates' constitutional rights if it did not properly anesthetize them or otherwise led to a botched and severely painful execution. In 2013, the Supreme Court upheld the use of midazolam in lethal injections, but its use for that purpose has remained controversial, and it has been one of the drugs that has played a role in previous botched executions.