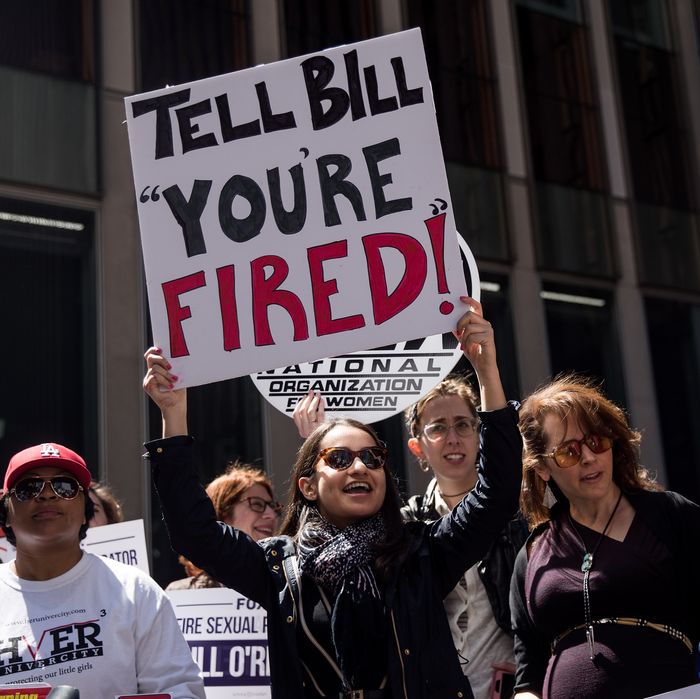 Protesters rally against O'Reilly in front of Fox News headquarters on April 18, 2017.
Photo: Drew Angerer/Getty Images
When Bill O'Reilly left for vacation on April 11, he stressed that the break was preplanned to counter the notion that it had something to do with the New York Times' revelation that five women were paid $13 million to settle harassment claims against him. A week later, it looks increasingly unlikely that he'll ever return to his show.
New York's Gabriel Sherman reported on Tuesday afternoon that "the Murdochs are leaning toward announcing that O'Reilly will not return to the air," according to three sources. Later that evening multiple outlets said support for O'Reilly is eroding within Fox News. Most notably, The Wall Street Journal — which is also owned by the Murdoch family — reported that Fox News is "preparing to cut ties" with the O'Reilly Factor host. The paper said 21st Century Fox is holding a board meeting on Thursday, and O'Reilly's fate could be announced by the end of the week.
Politico notes that while Fox News initially insisted O'Reilly would be back, network spokespeople have stopped responding to questions about his status.
The shift came as the network faced new pressure to cut O'Reilly loose. Dozens of advertisers have pulled out of The O'Reilly Factor, with many shifting their advertising to other Fox programming. On Tuesday, the women's rights group UltraViolet organized a rally of sexual assault survivors outside Fox News headquarters in New York. The group also had an airplane fly over New York with a banner that read "Fox: #DropOReilly, The Sexual Predator."
Another accuser came forward as well, claiming that O'Reilly harassed her while she was working in a clerical position at Fox in 2008. The woman, who is black, says that O'Reilly would grunt at her, leer at her cleavage and legs, and call her "hot chocolate." Her lawyer, Lisa Bloom, said she did not report the harassment at the time because she wanted to keep her job. She recently reported her claims via a 21st Century Fox hotline, and isn't seeking money.
While O'Reilly is still on vacation in Italy, his team started fighting back on Tuesday after remaining mostly silent for weeks. First Marc E. Kasowitz, O'Reilly's lead attorney, disputed the new accuser's claims. "It is outrageous that an allegation from an anonymous person about something that purportedly happened almost a decade ago is being treated as fact, especially where there is obviously an orchestrated campaign by activists and lawyers to destroy Mr. O'Reilly and enrich themselves through publicity driven donations," Kasowitz said.
On Tuesday evening Kasowitz released a second statement, saying O'Reilly has been "subjected to a brutal campaign of character assassination that is unprecedented in post-McCarthyist America." He added that he has "evidence that the smear campaign is being orchestrated by far-left organizations bent on destroying O'Reilly for political and financial reasons."
According to the Journal, O'Reilly's camp claims that the liberal watchdog group Media Matters and Democratic fundraiser Mary Pat Bonner are driving the advertiser boycott.
Fox has hired Paul, Weiss, Rifkind, Wharton, & Garrison to look into the allegations against O'Reilly. It's the same law firm that was brought in to look at the claims against Fox News chief Roger Ailes, who was ousted over his own sexual harassment scandal last year.