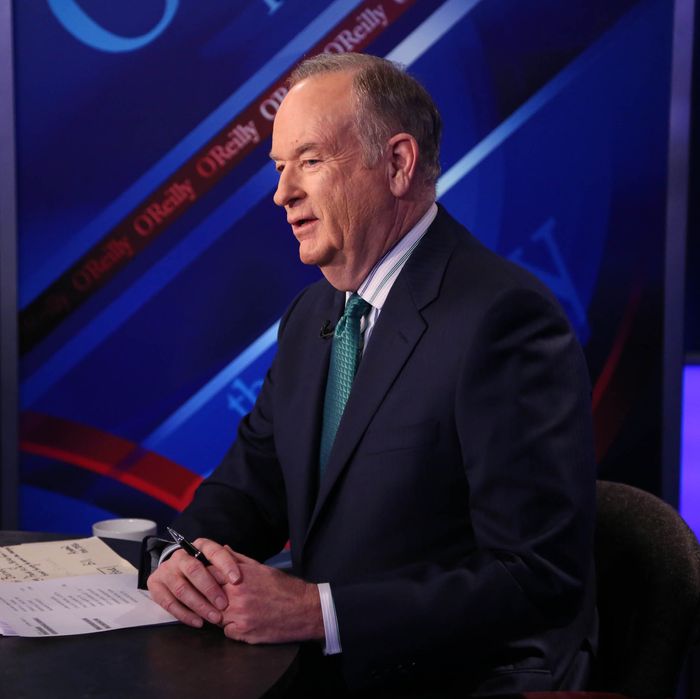 Bill O'Reilly hosts his show on March 17, 2015.
Photo: Rob Kim/Getty Images
On Tuesday, April 11, Bill O'Reilly ended his Fox News show by announcing that he was going on a long-planned vacation. "Last fall I booked a trip that should be terrific," said the host, explaining that viewers could guess where he was going on his website. "I'll have a full report when I return," he said.
Eight days later, while waiting for a flight back to the U.S. from Italy, O'Reilly learned that he would never return to the show he hosted on Fox News for 21 years.
On Wednesday morning, New York's Gabriel Sherman reported that a key issue in the negotiations over O'Reilly's exit amid a sexual harassment scandal was whether he would be allowed to say good-bye to his loyal audience.
Hours later, Fox News released a statement saying, "Bill O'Reilly will depart Fox News Channel, effective immediately."
While the end of the O'Reilly era was the top story on CNN and MSNBC all afternoon, there was no mention of his departure on Fox News until around 6:20 p.m.
"Bill O'Reilly, the biggest star in the 20-year history of Fox News, is leaving in the wake of mounting allegations of sexual harassment and inappropriate conduct," said Howard Kurtz, the network's media reporter, appearing on Bret Baier's Special Report.
Kurtz said that "the climate had shifted dramatically" after the New York Times reported earlier this month that O'Reilly and the network paid $13 million to five women to settle sexual-harassment claims. He also noted that Fox News chief Roger Ailes was forced to resign nine months ago over his own sexual-harassment scandal.
"Rupert Murdoch and his sons, James and Lachlan, have emphasized changing the company's culture so any form of harassment in unacceptable," the media reporter said.
Kurtz read one line (highlighted below) from the statement O'Reilly released on Wednesday refuting the allegations against him:
Over the past 20 years at Fox News, I have been extremely proud to launch and lead one of the most successful news programs in history, which has consistently informed and entertained millions of Americans and significantly contributed to building Fox into the dominant news network in television. It is tremendously disheartening that we part ways due to completely unfounded claims. But that is the unfortunate reality many of us in the public eye must live with today. I will always look back on my time at Fox with great pride in the unprecedented success we achieved and with my deepest gratitude to all my dedicated viewers. I wish only the best for Fox News Channel.
Kurtz closed by explaining that Tucker Carlson will take over O'Reilly's 8 p.m. slot starting Monday, with The Five moving to 9 p.m.
On Wednesday night, Dana Perino hosted one of the final editions of The Factor, which had O'Reilly's name scrubbed from the title and graphics:
She addressed O'Reilly's exit at the top of the show, saying, "We want to address a situation many of you may already be aware of: Bill O'Reilly, who hosted this program for 20 years, is leaving the Fox News Channel. We know that you, his very loyal viewers, will have a lot of feelings about this, and we will talk more about it later in the program."
There was no discussion of the sexual-harassment allegations, and O'Reilly only came up again at the end of the show.
Perino said it's "the end of an era" for Fox News, calling O'Reilly "the undisputed king of cable news." She went on to praise O'Reilly, his staff, and his audience.
"He is an incredibly talented broadcaster who raised the bar for interviewers everywhere," she said. "He has also held his staff to exacting standards in his quest to put the best possible program on the air, and they are great. And you, his audience, responded in record numbers, making The Factor the number one cable news show for more than 16 years. You have also been loyal, and we can't tell you how much that means to everyone on The Factor.
She closed by quoting the Murdochs' memo announcing O'Reilly's exit: "By ratings standards, Bill is one of the most accomplished TV personalities in the history of cable news. In fact, his success, by any measure, is indisputable. We wish him the very best."
O'Reilly's next move is unclear. The Washington Post reported that his Fox News contract, which he renewed just last month "contains a clause that enables him to be dismissed under a fixed financial formula, averting protracted negotiations."
The contract may contain a "non-compete" clause that would complicate the host's shift to another network, but upstart conservative outlets like Newsmax or One America News would probably be eager to snatch him up. Newsmax CEO Christopher Ruddy told CNNMoney that he'd "love to talk to him," though he said he wants to learn more about why O'Reilly was fired. "I'm not closing the door" on O'Reilly "just because there were allegations that were not confirmed," he said.
The Murdochs were well-aware of the allegations against O'Reilly when they offered him $18 million a year to stay at the network for another three years, as the Post reports:
In preparing their story, reporters for the New York Times had sent Fox's executives a long list of questions, placing senior executives on alert months in advance of its publication.

But the prospect that his accusers — bound by non-disclosure agreements as a result of their settlements — wouldn't speak in anything but general terms led the company to believe it could weather the Times story.
That changed with the allegations from former O'Reilly Factor guest Wendy Walsh, who had never sued the host, and was thus free to speak freely about her claims against him. As the Murdochs enlisted an outside law firm to investigate the sexual-harassment claims, more women went public with their allegations.
Another woman, Jehmu Greene, came forward on Wednesday, telling the Times that she contacted the law firm after a network executive failed to answer her email about O'Reilly. Greene, a current Fox News contributor, says that when she was a regular guest on the network several years ago, O'Reilly told her in the makeup room that she should show more cleavage. She said in another exchange, he quipped that he was "interested in breaking my back."
"I don't think that these comments were focused from a sexual standpoint," Greene said. "I think they were more of a power standpoint to put me in my place."
Some combination of the pressure from protesters, advertisers, and Fox News employees — as well as 21st Century's $14 billion bid to take over Sky TV, which still needs the British government's approval — finally pushed the Murdochs to abandon their biggest star. But for now the sexual-harassment allegations haven't cost O'Reilly his entire media career. Henry Holt, which publishes O'Reilly's nonfiction books, and National Geographic, which is turning his book Killing Patton into a TV movie, said they have no plans to cut ties with him.