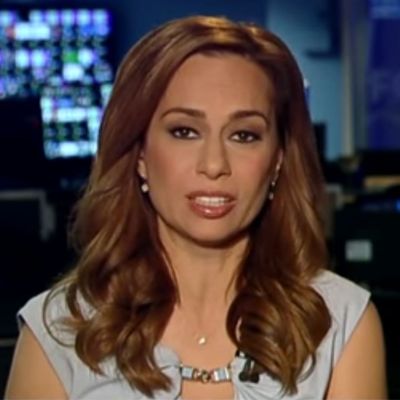 Julie Roginsky.
Photo: Fox News
The post-scandal nightmare at Fox News continues. Over the weekend, the New York Times reported that Bill O'Reilly paid out $13 million in secret settlements to five women who alleged that the prime-time star harassed them.
This morning, Fox has been hit with another high-profile sexual-harassment lawsuit.
Fox News on-air contributor Julie Roginsky, who's guest hosted on The Five and Outnumbered, filed a suit in New York Supreme Court that alleges she was repeatedly sexually harassed by former network boss Roger Ailes in 2015 and then demoted after rebuffing his advances. Roginsky also alleges that Fox News' current management team denied her job opportunities after she spoke up. In addition to Ailes, the suit names Fox News' co-president Bill Shine as a defendant. It also includes allegations against general counsel Dianne Brandi, executive vice president Suzanne Scott, and PR executive Irena Briganti.
Roginsky is being represented by Nancy Erika Smith, the New Jersey–based attorney who represented Gretchen Carlson.
A veteran Democratic political strategist who worked for Cory Booker, Jon Corzine, and Frank Lautenberg, Roginsky became a paid Fox News contributor in 2011 after appearing regularly on the network since 2004.
Her account fits the pattern of other women who've alleged harassment by Ailes. In 2015, the suit alleges, Ailes repeatedly met with her alone in his office, ostensibly to discuss her career. Roginsky wanted to become a permanent co-host on The Five and, she alleges, Ailes indicated that was a possibility.
She claims that during these meetings, Ailes steered the conversation to sex, and asked her "if she was dating anyone" and didn't understand "why she was still single since she was so attractive." Roginsky also alleges that Ailes told her to have sex with "older, married, conservative men" because "they may stray but they always come back because they're loyal." He allegedly added that he himself was "loyal" but he regarded loyalty as a "two-way street." She also describes how Ailes insisted on a kiss hello but would not get up from his office chair, so that Roginsky would have to bend down. This allowed Ailes to allegedly "look down Roginsky's dress." (During these meetings, he also allegedly disparaged Fox female talent, once remarking Kimberly Guilfoyle would "get on her knees for anyone.")
Roginsky says her meetings with Ailes stopped in late April 2015 after she explicitly refused his invitations to get a drink. "Since being seen in public together would get us into trouble maybe we could just do it privately in my office instead, so no one would know," Ailes said, according to the suit. Roginsky says her appearances on the network dropped off after this and she couldn't secure another meeting with Ailes.
When Gretchen Carlson filed her lawsuit against Ailes in the summer of 2016, Roginsky claims Fox colleagues pressured her to publicly support Ailes (Roginsky refused). According to the suit, Roginsky told Fox News contributor Angela McGlowan that Ailes "was a sexual predator and that she would not join in the smearing of Gretchen Carlson." The suit alleges that McGlowan relayed that conversation to Shine, Brandi, and Scott.
Perhaps most problematic for Fox News, the suit describes the network's current management as unwilling to investigate Roginsky's claims after she spoke up about it. For instance, she says she was not invited to speak to Paul, Weiss, the outside law firm hired by Fox News' parent company 21st Century Fox to conduct an investigation.
In mid-November Roginsky read in Variety that Meghan McCain was hired on Outnumbered, a position for which Roginsky had interviewed. Roginsky called Shine's assistant to request a meeting with Shine, but heard back instead from Brandi, who said Roginsky could not meet with Shine if she was "threaten[ing] a lawsuit" about Ailes.
Roginsky persisted and secured a meeting with Shine and Suzanne Scott in late November. During this meeting she directly told them about her harassment by Ailes. She alleges they were not surprised to hear this and took no action to investigate the claims.
Instead, Shine allegedly compared Fox News to the Eagles. He had seen a Showtime documentary about the band and recommended that she watch it. The suit alleges that Shine said in the same way that the band's brilliant musicians could only have come together at "one place and one time in history," so it was with Bill O'Reilly, Sean Hannity, Suzanne Scott, Roger Ailes, and Bill Shine coming together to form Fox News.
Roginsky never got a permanent hosting position. The job she wanted on The Five went to Geraldo Rivera.
Susan Estrich, Ailes's attorney, said in a statement that Roginsky's "description of meetings that she supposedly had with Roger Ailes are total hogwash. Mr. Ailes vociferously denies her allegations.
"Her interactions with Mr. Ailes were not even close to the fictional version she wants people to believe now.
"The idea that Mr. Ailes would pressure Ms. Roginsky or any other women to have sexual relations with him is total nonsense.
"In short, this copycat complaint is not about discrimination or retaliation. This is about someone who wants to pile-on in a massive character assassination in order to achieve what she did not accomplish on the merits."
This post has been updated to include a statement from Ailes's attorney.