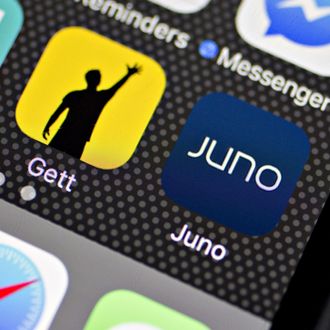 Photo: Andrew Harrer/Bloomberg via Getty Images
Nearly a year after launching as an anti-Uber ride-hailing app, Juno announced this week that it was being acquired, effective immediately, by Gett. The Volkswagen-backed company purchased its competitor for $200 million, which is good news for execs at Juno, but not great news for its drivers, who are now learning that their stock plans — a key tenet of Juno's recruiting strategy — might be worth a fraction of what they were initially promised.
From its inception, Juno's founders claimed it was an "ethical" alternative to apps like Lyft and Uber. Drivers were given free phones and offered "Restricted Stock Unit Plans," which promised shares in the company, or cash, for consistently meeting a required number of hours over a period of months. Steven Savader, a driver who joined Juno in 2016, told Quartz that "he would get either shares in the company or a cash payment in lieu of them if he worked at least 120 hours a month, for 24 out of 30 consecutive months" according to his RSUP, which both he and Juno founder Talmon Marco signed. This week, Savader was informed that Juno would be paying him out in cash, a total sum of $107. Another driver told the Observer that their 14,173 restricted shares would translate to a single payment of $251, which breaks down to $0.02 per share. Last summer, as noted by Quartz, Juno advertised restricted stock value to would-be drivers at ten times that value.
Juno payouts also reportedly come with conditions. Driver Cory Savary told the Observer that he is eligible to receive $100, but only if he signs up to continue driving with the newly created Juno by Gett. He plans to leave the money, and the company, behind.