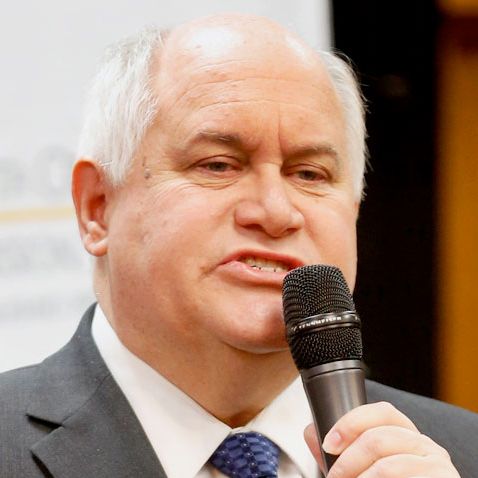 Democrat James Thompson, left, lost to Republican Ron Estes.
Photo: AP
When the early voting returns spilled out of Kansas's Sedgwick County — that is, the city of Wichita — Tuesday night, they showed Democrat James Thompson leading Republican Ron Estes by significant margins. This was a dynamic no one had seen for a long time in Kansas's deeply red fourth Congressional district. For a little while, political junkies thought the special election to fill Trump administration appointee Mike Pompeo's former House seat might see the most shocking congressional upset since Dave Brat drove Eric Cantor out of Congress in a 2014 Virginia primary.
In the end, it was not to be for Thompson and Democrats though; once rural counties began reporting their usual massive GOP percentages, Thompson faded. But given the nature of this district, Thompson holding Estes to a mid-single-digit win (the final margin is a bit less than 7 percent) is pretty amazing. Pompeo, whose elevation to the directorship of the CIA created this contest, regularly won the district by 30 points. Romney won there by 26 points in 2012, and Trump by 27 points in 2016. This is not remotely a competitive district.
Here's how Daily Kos Elections' David Nir explained the expectations before the polls closed today:
Even if Estes were to win by, say, 15 points, that would represent a collapse of a dozen points compared to Trump's win. Just imagine if Democrats everywhere started improving over last year's presidential margins by 12 points. A ton of seats would come into play that no one ever dreamed of contesting—more than enough to flip the House.
Republicans will try to say that they had a questionable candidate the national party did not get behind until very late, which is true. But it's not like national Democrats gave Thompson even a tiny fraction of the financial and organization support that Jon Ossoff has been receiving in Georgia's sixth House district, which votes a week from now.
Donald Trump, who along with his vice-president began making robocalls for Estes very late in the race, will probably explicitly or implicitly make the close outcome reflect something other than his own record or popularity — or will perhaps take credit for Estes not actually losing. Without question, Kansas governor Sam Brownback's unpopularity (with many Republicans as well as Democrats) had a lot to do with the struggles of Estes — a member of his cabinet. But any way you slice it, the Trump-GOP conceit that they are building some sort of new, unconquerably popular majority based in the Heartland took a pretty big hit in the heart of that region tonight. Republicans will now look forward to next Tuesday in Georgia with fear and trembling. There are no rural counties in the Georgia's sixth district to bail out the GOP, and since they know that, it could get really nasty.