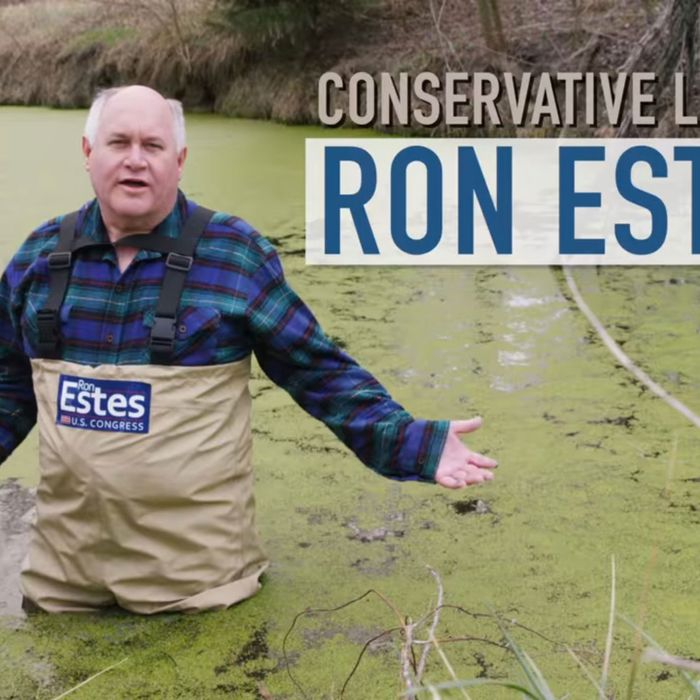 Is heavily favored congressional candidate Ron Estes suddenly up to his ass in alligators?
It's an old story by now that Republicans are jittery about holding onto the Georgia U.S. House seat once held by Newt Gingrich and Johnny Isakson, and mostly recently by HHS Secretary Tom Price, in an April 18 special election. But it's another thing altogether to learn that Republicans are worried about a special election a week earlier in Kansas to replace CIA director Mike Pompeo. Here's the news from Politico:
The NRCC is pouring money into a last-minute TV ad buy in Kansas ahead of a Tuesday special election, seeking to pump up Republican enthusiasm and turnout in a district that President Donald Trump carried by 27 percentage points just a few months ago.

The late independent expenditure seeks to boost Republican state Treasurer Ron Estes …. Kansas Republicans are fretting that Estes' margin is closer than expected in his race against Democrat James Thompson, an attorney.

"Kansas should not be in play, but Kansas is in play," said one Kansas Republican consultant.
Yikes.
Just last month the authoritative Cook Political Report rated this race "Safe Republican." And no wonder: Aside from Trump's margin in the 4th district of Kansas, Pompeo won it two-to-one last November, and it hasn't gone Democratic in a presidential or House election since 1992.
And it's not like the Democrat in the race, James Thompson, is a political behemoth. Last seen his campaign was whining about the state party refusing to pony up $20,000 for a mailer.
So maybe GOPers are just getting jumpy, or maybe they are seeing something in Kansas and elsewhere in their own ranks that suggests underwhelming turnout. The NRCC ad, which basically calls Thompson an enthusiastic baby-killer, is about as subtle as an electric cattle prod plunged into the bathwater of GOP base voters.
If the idea is that Republicans need to beat expectations in all these special elections to avoid a buzzkill for the troops or a Twitter screed from the White House, the NRCC going medieval on Thompson makes some sense. But if they're really worried about losing KS-4, that should terrify Elephant-Party people everywhere.