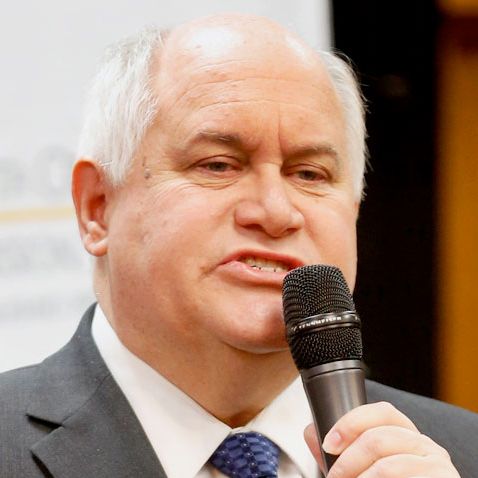 If Democrat James Thompson defeats Republican Ron Estes in a special election in a deep-red Kansas congressional district's special election today, the anti-Trump "resistance" will get its first tangible win.
Photo: AP
What progressives call the Resistance to Donald Trump and his Republican allies in Washington has had to subsist on mostly symbolic triumphs up until now: the huge women's marches and associated protests around Trump's inauguration; the discomfiture of GOP members of Congress facing angry constituents back home; and schadenfreude over Trump's legal and legislative setbacks. Beginning today, though, there will be opportunities for real voter pushback against Trump and company in a series of congressional special elections, followed by regular off-year elections in New Jersey and Virginia, and then, of course, the 2018 midterms. (Yes, there has already been a special election in California, but in a district as blue as the nearby Pacific Ocean).
Today's curtain-raiser in the state's 4th congressional district, to replace CIA Director Mike Pompeo, was not supposed to be competitive. The district has been represented by Republicans since 1994. Pompeo won reelection last November by a 61-30 margin. Trump won there by a 60-33 margin; Mitt Romney won it in 2012 by 62-36. It is basically a sea of red counties surrounding islands of Democratic support in Wichita. As recently as March 17, the Cook Political Report's highly regarded David Wasserman rated the race as "Solid Republican," with GOP state treasurer Ron Estes expected to dispatch Democratic newcomer James Thompson easily.
Now it's "Lean Republican," and Wasserman explains why:
Republicans familiar with recent polling describe extremely high Democratic intensity and very low GOP enthusiasm in what is likely to be a very low turnout special. More than that, Estes appears to be swept up in a last-minute vortex of factors outside his control: Democrats' anger towards Trump, independents' anger towards Gov. Sam Brownback and GOP dissatisfaction with early administration failures.
Another reason for KS-04's upset potential could be the manner of Estes's nomination. The special selection process fell to a committee of several dozen local GOP officials rather than a primary, which would have forced Estes to engage with base voters much earlier or could have produced an outsider nominee.
The Brownback factor could be the wild card. Estes is a member of the increasingly unpopular governor's cabinet, and as Wasserman notes, was nominated by a party convention, not voters. Kansas probably had the country's most pronounced intra-GOP split, with hard-core conservative ideologues led by Brownback perpetually battling self-conscious Republican moderates. The split was just exacerbated when Brownback vetoed a Medicaid expansion that was backed by a host of moderate legislators.
Meanwhile, the Estes campaign has not inspired much confidence, leading national GOP figures to run an abrasive ad attacking Thompson as a big fan of abortions in an effort to boost base turnout. Here's what the conservative Washington Examiner reported:
"Ron's run a horrible campaign. Hasn't raised much money, his ads are abysmal — no energy," a Kansas Republican operative said, on condition of anonymity in order to speak candidly. "It's a low turnout special and weird things happen."
The "weird thing" that could happen, of course, is a Democratic win tonight, though hardly anyone is willing to predict that outcome given the nature of the district. As Real Clear Politics' Sean Trende reminds us, Kansas has aroused and dashed Democratic hopes in the recent past:
[W]e have heard this song-and-dance before. In 2014, many observers and pollsters found that Brownback and Republican Sen. Pat Roberts were in the fights of their lives, only to have Brownback win by four points and Roberts win by 10 (Brownback carried every county in the 4th District). District partisanship has a way of asserting itself at the end. Yet the National Republican Congressional Committee is concerned enough that it has parachuted in, and Vice President Mike Pence has cut a robo-call phone message here. There is more than a little bit of smoke.
Now Donald Trump is doing robo-calls, too, telling GOP voters: "Ron is going to be helping us, big league." Ted Cruz is parachuting in to campaign personally for Estes, as well. This is not what you would expect from a deep-red district that is also the home of Koch Industries.
If Thompson wins, obviously, or even if Estes wins by single digits, it will probably ramp up the excitement over next week's special election in Georgia's 6th congressional district to a level of great intensity, particularly among Democrats. That's the race that has attracted the money, volunteer activity, and media attention the Kansas race has largely lacked. So from a national perspective tonight's results (which should come pretty fast, with polls closing at 8 p.m. ET) will probably serve as an appetizer for the main course next Tuesday.