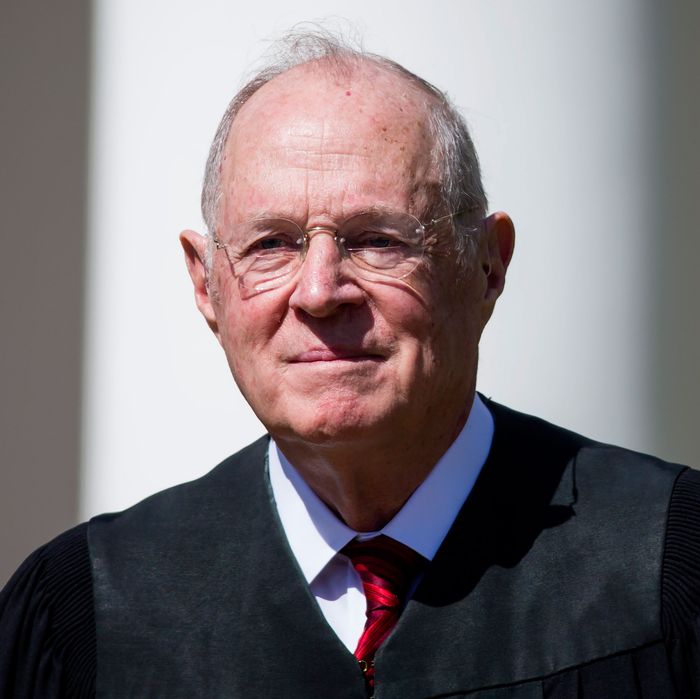 Conservative activists are praying for an Anthony Kennedy retirement and a Trump appointment designed to overturn Roe v. Wade.
Photo: Eric Thayer/Getty Images
Here we go again: The rumor that will not die, that Supreme Court Justice Anthony Kennedy is going to retire imminently, giving Donald Trump and conservatives generally a chance to quickly change the Court's trajectory for decades, is back, this time being promoted by the chairman of the Senate Judiciary Committee, according to the Hill:
Sen. Chuck Grassley is predicting that President Trump will get to nominate a second justice to the Supreme Court as early as this summer.
The Iowa Republican, chairman of the Senate Judiciary Committee, said there is a "rumored" upcoming retirement but declined to say which justice he expects to step down.
"I would expect a resignation this summer," Grassley said during a Q&A with the Muscatine Journal in Iowa.
Now it's always possible someone on SCOTUS that no one thinks is considering retirement actually is, and that Grassley's gotten a heads-up as chairman of the committee that would confirm a successor. But more likely, he's talking about one of the older Justices: 84-year-old Ruth Bader Ginsburg, 80-year-old Anthony Kennedy, or 78-year-old Stephen Breyer. It's very unlikely, however, that Ginsburg or Breyer would voluntarily leave the Court so early in a Trump presidency, or would help conservatives prepare for a nomination designed to repudiate their own judicial legacies. One would hope that Grassley (and before him Ted Cruz, who has been fanning the same rumor for a good while) isn't speculating about anyone's health or proximity to the Great Beyond. That sure wouldn't be Iowa Nice, would it?
So the odds are high Grassley's talking about Kennedy stepping down. Trouble is, this rumor, which began circulating before the presidential election and gained momentum when Trump won, has been pretty thoroughly investigated and found to be of questionable provenance. Above the Law's David Lat tried to shoot it down last November, finding no one with any real evidence, and also identifying some alternative explanations of clues others cited, like Kennedy's tardiness in hiring clerks (later corrected) and his apparent abandonment of a customary summer-teaching gig.
If Grassley has not been vouchsafed some secret knowledge, however, it is highly irresponsible for him to engage in this sort of speculation. He surely knows that a near-term Kennedy retirement is the biggest news ever when it comes to the anti-abortion activists who are part of his own political base. Having earlier helped saved abortion rights as the swing vote in Planned Parenthood v. Casey back in 1992, Kennedy came to the rescue again last year in Whole Women's Health v. Hellerstedt, a 5-3 decision that struck down the most popular state method for reducing the availability of abortions. It is almost universally assumed that new Justice Neil Gorsuch would be a fourth vote to either reverse or seriously modify precedents creating and defending a constitutional right to abortion, dating back to Roe v. Wade. So a Trump replacement for Kennedy would very likely be the final blow, as the payment for movement-conservative support for Trump could come due sooner than anyone expected.
If, for the sake of argument, Grassley knows whereof he speaks, then you still have to wonder why he is going public with the speculation, which if nothing else is rude to a Justice who would be giving the Republicans' conservative base the most precious gift imaginable. Then again, Grassley is 83 himself, and perhaps he cannot contain his enthusiasm at being in the center of a great public spectacle this very summer. Or maybe he's reassuring his partisan colleagues that they will soon get a chance to repeat their one legislative accomplishment of 2017 by further reshaping the Supreme Court.