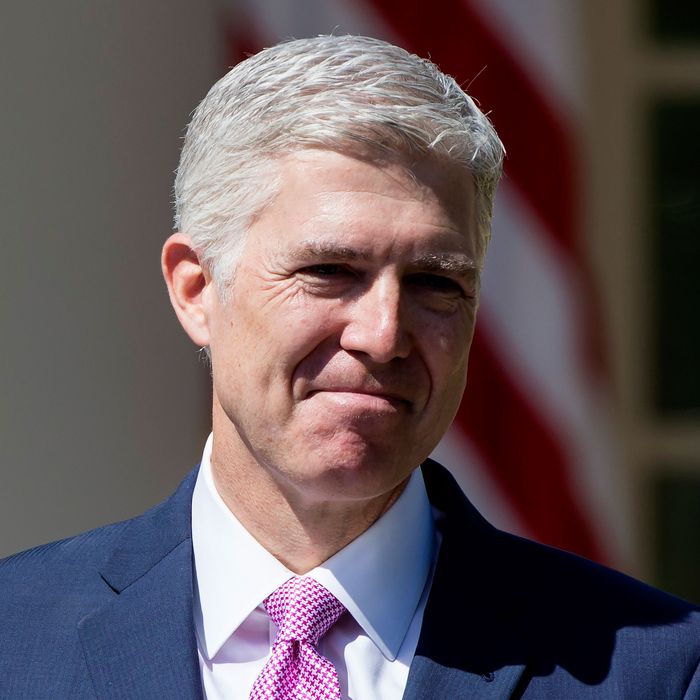 In his very first vote, a deciding one, Gorsuch cleared the way for Arkansas to begin its speed-execution process before the lethal-injection drugs expire.
Photo: Eric Thayer/Getty Images
A lot of conservatives hoped that Neil Gorsuch would make an immediate difference on the Supreme Court. Nobody much used the term "a life-or-death difference," but for five death-row inmates in Arkansas, that's what it turned out to be, as the new Justice was the deciding vote in a 5–4 decision to deny a group petition for a stay of execution. The cases were part of a blitz of executions by the state designed to occur before its stockpile of lethal-injection drugs expires.
Immediately after the SCOTUS decision came down, Arkansas performed its first execution since 2005, lethally injecting convicted murderer Ledell Lee, 16 minutes before the state's death warrant would have run out.
Clearly, Arkansas was a state in a hurry when it comes to capital punishment.
The five Court conservatives (John Roberts, Anthony Kennedy, Clarence Thomas, and Samuel Alito, in addition to Gorsuch) who gave the green light for the execution of Lee (and soon to be four others) did not offer any opinion for their decision. In dissent, Justices Stephen Breyer and Sonia Sotomayor express various concerns about Arkansas's speed-killing spree and about lower-court applications of standards for reviewing lethal-injection cases.
Capital-punishment opponents will inevitably wonder what Merrick Garland would have made of this case. But it's all theoretical now, while Neil Gorsuch's impact on the Court is very real.