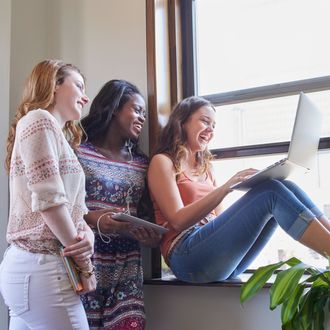 Three fun millennials possibly enjoying the quality content on Elite Daily.
Photo: David Shopper/Getty Images
A couple of years ago, the notoriously shameless tabloid the Daily Mail purchased a website known as Elite Daily, a kind of industrialized content farm that churns out hundreds of blog posts a day, engineered to go viral on Facebook with grabby headlines, generic life advice, and pop-culture GIFs. The site refers to itself as "the voice of generation Y," and publishes articles like "Men Admit the Unrealistic Expectations You Have About Dating and It's Pretty Spot On" and "6 Ways Canceling My Gym Membership Helped Me Lose More Weight Faster."
Elite Daily has always been a legendarily shady operation, as the Awl reported all the way back in 2014, but its institutional mandate to find and exploit the weaknesses in Facebook's sorting algorithms with a tsunami of trash — often with articles written under pseudonyms, or by using a well-known byline without the author's permission — made it, briefly, an enormously successful shady operation: A deeply cynical pump-and-dump scheme designed to foster incredible growth by aping whatever sensibility was popular on social media that week, and then sell to a larger entity.
That larger entity turned out to be the online arm of the Daily Mail, which bought Elite Daily for a reported $47 million dollars in 2015, turning the owners of a shoestring garbage farm into millionaires overnight. At the time, Gawker referred to the joining of the families as a "Voltron of shit." But the Daily Mail was never able to spin much gold out of Elite Daily, which seemed to have finally been kneecapped by changes to Facebook's News Feed sorting, and at the end of the last year, the company took a $31 million write-down on the acquisition.
But, like another viral genius, Elite Daily has risen. Today, it was announced that Bustle, another Facebook-fueled content farm — this one aimed at women — purchased Elite Daily for an undisclosed amount. Bustle launched in 2013, led and funded by former Bleacher Report co-founder Bryan Goldberg, whose general understanding of female-oriented media at the time seemed to be "women be shopping." (To his credit: In an increasingly unstable environment for digital publishing, Bustle seems to be doing quite well.) Contacted by Business Insider, Goldberg rejected the idea that Elite Daily was a toxic asset. "This property is valuable, I know it's valuable," he told the site. "If there's one person who doesn't care what the press thinks, it's me."
Of course, Elite Daily's audience isn't composed solely of members of the press — it's composed of millennial readers who are visiting the site half as often as they used to. Maybe it's because Facebook changed its algorithms, or maybe it's because they finally got sick of the site. Either way, he's got a tough road ahead. Then again, maybe Goldberg is just looking to buy some MacBooks, a dozen millennial writers, and a Facebook page with 3.5 million "likes" at bargain-basement prices.