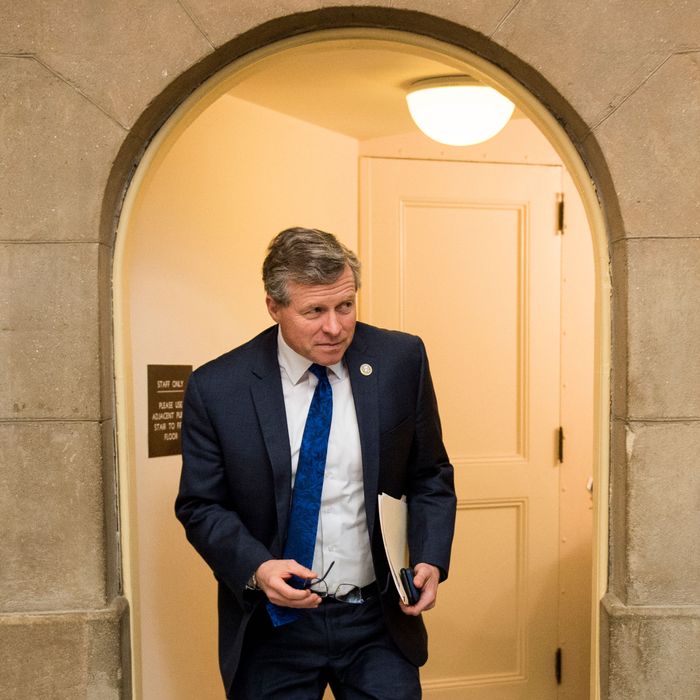 Rep. Charlie Dent (R-PA), Trumpcare undertaker.
Photo: Bill Clark/CQ-Roll Call,Inc.
Since the demise of Paul Ryan's health-care plan in the House, Republicans have made a lot of noise about patching up the bill in such a way that it could unify their party and be squeezed through. Every few days, a new plan for reviving the American Health Care Act floats into the media. President Trump, who previously declared he would move on from the failure of health-care reform, reversed himself last night and said he wanted to pass a health-care bill before cutting taxes. "It's been very much misreported that we failed with health care," he told Fox News' Maria Bartiromo. "We haven't failed — we're negotiating, and we continue to negotiate, and we will save perhaps $900 billion … we have to do health care first to pick up additional money so that we get great tax reform."
But none of these plans are going to pass the House, let alone the Senate. And the reason is that it was the least conservative House Republicans, not the most conservative ones, who played the biggest role in killing Trumpcare; they opposed it because it would throw their constituents off their insurance. Those vulnerable Republicans are feeling even more vulnerable today — in the wake of a 20-point Democratic shift, which created a competitive race in a deeply Republican Kansas House special election — than they felt when Trumpcare failed.
The most significant news on health care since the bill failed to pass the House comes from Representative Charlie Dent, head of the Tuesday Group, a caucus of the most moderate House Republicans. Dent told Caitlin Owens that his caucus doesn't want to pass a Republican-only health-care bill — they want to work with Democrats. And, explains Owens, "getting Democrats to the table is unlikely if the current House Obamacare-replacement bill is the vehicle Republicans continue to work with. Instead, [Dent] said, they'll need to start over."
Now, whether Republicans actually can work with Democrats on a health-care bill — and whether such a bill could be signed into law — is another story altogether. It's not clear that the Trump administration is competent enough to cut a bipartisan deal, even if it could decide what it wanted to do on the issue. But Trump and the GOP leadership can talk all they want about rejiggering their health-care bill to jam it through the House; if their vulnerable members fear they'll lose their jobs by voting for the bill, which is doomed in the Senate anyway, it's not going to happen.