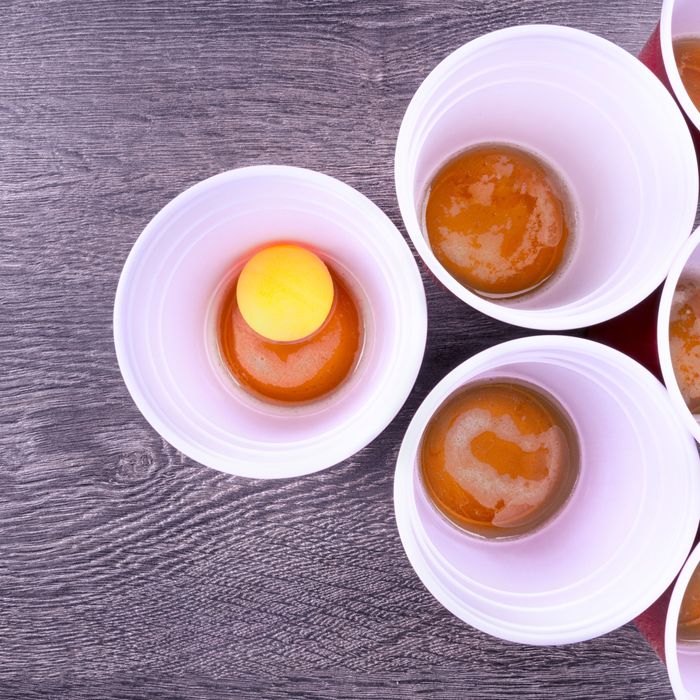 Photo: Michel Aubry photo/Getty Images/iStockphoto
When Morgan Jacobs, an eighth-grader at the University School of Nashville in Tennessee, gets off from school and sports at 5 p.m., she hops onto Houseparty, a group video-chat app launched last fall by the founders of now-defunct live-video start-up Meerkat. Over the course of an evening, she might open Houseparty to chat, do homework, and goof off with her friends, most of whom aren't old enough to drive.
Jacobs is a member of "Generation Z" — teenagers born between 1996 and 2010 whose "post-selfie" tech habits have propelled forward a whole new wave of social-media apps, among them Houseparty, lip-sync app Musical.ly, and Q&A app Whale. Buoyed by the success of Snapchat, these often whimsical, video-focused products collectively attract hundreds of millions of minutes a day of eyeball time and have turned adolescents like Jacobs into such a valuable source of intel in Silicon Valley that investors are following their Twitter conversations and inviting them home for dinner.
It's a departure from a decade ago, when Facebook and Twitter were first ascendant. The product success of that generation of social media companies was in large part attributable to fundamental intuition of what their users wanted — because their users were like themselves. Mark Zuckerberg was a nebbish student at Harvard when he built a website where other Harvard students (and eventually people around the world) could see what everyone was doing, dating, saying. Kevin Systrom was a 20-something with a Leica camera on vacation in Baja California with his girlfriend when he came up with the concept for Instagram. Reid Hoffman's membership in perhaps the most powerful professional network of all time, the so-called "PayPal Mafia," had already cemented his reputation as a rainmaker by the time he founded LinkedIn. Each of these companies could rely in their early days on their existing physical social networks to recruit employees, and they could always turn to their own friends to ask for feedback on whether their product was appealing.
Many of today's top social-media apps, on the other hand, have core user bases that are a different demographic than the developers. The co-founders of Houseparty, Ben Rubin, Itai Danino, and Sima Sistani, are in their late 20s and early 30s, veterans of the Israeli military, Bay Area tech scene, and parenting. Their understanding of teenage mores is less lived than anthropological. They've had to learn, through trial and error, what young(er) people like.
Houseparty, for instance, spent the spring of 2016 touring high schools and colleges in the midwest and South, introducing the app to a select group of representatives and taking feedback on everything from the number of people that should be allowed in a Houseparty "room" at once to the mechanism by which contacts would be notified that someone was on the app and ready to socialize. In choosing schools, the team sought out the generic American teenager, purposely avoiding coastal, tech-heavy hubs where 15-year-olds have phones full of the latest YC offerings and aspire to be venture capitalists. In the early days, this often meant tapping alumni networks and younger siblings or cousins of friends of friends (Morgan Jacobs's cousin Tracy went to college with Houseparty employees, and Jacobs was a tester/early adopter. She later pulled many of her friends at middle school onto the app). But there were also many users, especially as the app gained traction, who reached out on their own accord, asking how they could help.
Other companies in the genre have gone even further. Musical.ly, the lip-syncing app, engages in what its founder, Alex Zhu, calls "participatory design." User feedback is solicited on a continuous basis in giant WeChat and WhatsApp groups. "In every design, especially every major feature design," he said, "we always first present the idea, have a conversation with users, share the mock-ups and wireframes, before we do any coding." For Zhu, a late-30s Chinese immigrant who spent the first half of his career building enterprise software, Musical.ly's user base is the result of conscious, almost calculated analysis: "For a new social platform today to take off, it's better to have young people as an early adopter, especially teenagers in the U.S. Why? They got a lot of time. They're creative and in schools, they're already using YouTube for educational purposes, so everyone is a professional in video-making and editing," he said. Having settled on an audience, he worked backward to create a product. Zhu noticed on trips to Silicon Valley that teenagers were either listening to music on their phones, or taking videos and plastering stickers on them. Musical.ly bridges those two functions, and, lifted by the popularity of Spike's Lip Sync Battle, was an almost immediate hit. Today, Musical.ly, headquartered in Shanghai, has over 40 million monthly active users, most between the ages of 16 and 24, and the chat groups serve as a virtual conduit. "We have daily conversations not only about the product and ideas, but just … talk, understand what they think, making jokes, be immersed in the American teen experience," Zhu said.
Josh Elman, a partner at Greylock Partners who has invested in both Musical.ly and Houseparty, talks about this kind of communication as crucial to growth. With Houseparty's college tour, "It wasn't just, hey we need to go market this. It was hey, let's go sit down with a group of people who might be really attracted to this product and let's go learn what they like and don't like. Let's throw a little party and see if they have fun with it. Then you walk away, and if they like it, then you have a bunch of people who know about the product, and if they don't you have a bunch of feedback." As it turns out, they did like it. Social networks depend on network effects to thrive, and nowhere are they more dense than in schools and among young people. By May of 2016, Houseparty peaked at number three on the Apple App Store. In August, it fell to a ranking in the thousands in what the team would later realize was a seasonal reflection of the school year: teens actually used Houseparty more when they saw each other all day in class. As of February, users spend in the ballpark of 20 million minutes a day on Houseparty.
I first heard about Houseparty and Musical.ly from friends of mine in San Francisco. We are in our mid-20s, and the dominant social media of our lives has been Facebook. We were in sophomores in high school when the site was founded and juniors in college when the company went public. While we've all used other social-media apps too — Instagram came along in 2010 and Snapchat in 2011 — the post-and-respond model pioneered by Facebook is what we know best. When I introduced Houseparty to millennial friends, it confused them that as soon as you opened the Houseparty app, you were on video, and anyone could join you. That asynchronous mode of communication is as nonintuitive for us as a front-facing camera is intuitive for teens, and that's the other reason that new apps have often started out by aiming at the Gen Z market — "The older you get, you've already got a bunch of ways of connecting to people, so trying something new is transformational," Elman says. "If you were in college when Facebook was going up, you used Facebook a lot, and then when you grew up, you continue to use Facebook … The generation after that is doing different things, trying out different products." Teens represent unclaimed territory for start-up founders, traditional advertisers, and influencers, whose charisma Musical.ly has already started to monetize with virtual gifts. And they're more open to paying for things online the way they do in real life, because online is real life. One day Houseparty may well eschew Snapchat Stories–style native advertising in favor of something even more personalized — subscribe to "Houseparty" with Justin Bieber! Hailee Steinfeld! Alex from Target!
What Elman disputes is the notion of a single old-young product axis. "We wanted to appeal to something that was fun, as opposed to something that was serious. A lot of the products out there today are like, how many likes do you get, or just the most austere picture you can take on Instagram." He talks about how while the first wave of internet companies fulfilled utilitarian needs and the second introduced the concept of an online identity, today's social-media apps, enabled by the ubiquity of unlimited data plans, challenge users to be a more different, multifaceted self. "One of the reasons that I think Snapchat really took off was that your identity was one that kept morphing, as opposed to sticky and permanent," he said. "Musical.ly became popular because it allowed people to be creative in a way they had never been able to capture before. And Houseparty grew up because it was communication that was human, live — different places — with multiple people around." Elman believes this third wave is still in its nebulous early days, and as an investor, gives his companies the time and runway to experiment. "See if you can build something that teens like. See if you can build something you can get anyone else to like."
Over time, it's become apparent that despite the much-talked-about market segmentation, the very best apps appeal to wide swathes of society for a wide variety of reasons. "At the end of the day, we're all people trying to connect to other people," Elman says. "I think a lot of these products are fundamentally universal, even if people have to explore the app and get there in their own time." Even though teens often dictate the public perception of how a product should be used, the best apps are reinterpretable. I use Houseparty to communicate with my closest classmates from college, scattered across the world and impossible to pin down for a Skype date over email. My sister, who is a year younger, uses Houseparty to watch The Bachelor every Monday night with a group of girlfriends. My mom uses Houseparty to communicate with my sister and I. And teens — teens use Houseparty to do what teens have been doing in real life for millennia — a guy and a girl will go into a Houseparty "room" by themselves and "lock the door."