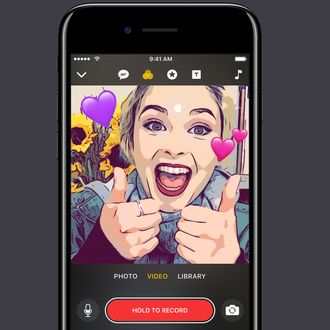 Apple's video-editing app, Clips, officially rolled out today. Is it worth downloading? Here's the good, the bad, and the unnecessary.
The stand-alone app, which is only available in the United States, lets you cobble together photos and videos, which you can record fresh or select from your camera roll. You can add filters, music, emoji, captions, and title slides. Your finished product can run up to a relatively epic 60 minutes, though each individual clip can be no longer than 30 minutes.
(Note: You'll need iOS 10.3 to download Clips, so make sure to update your iPad or iPhone, if you haven't already.)
The Good
The most handy thing about Clips is the "Live Tiles" feature. You just press and hold the record button, start speaking, and watch as the app auto-creates captions to go over your photo or video. (There are several aesthetic choices for how you want your captions to appear, like a typewriter-style font or a bold print across the center of the screen.)
I was pleasantly surprised by how well the app translated what I was saying. It managed to accurately transcribe words I thought would stump it, like "-onomatopoeia. (The feature is available in 36 languages. I can only speak for how well one of those works.) It does, however, seem to struggle if there is too much background noise, or if you're speaking with too much vocal fry. Speak clearly, and try to record somewhere not too loud. (Or just recaption the clip later, somewhere more quiet.)
The Bad/Less Good
The app offers pretty limited options in terms of what you can decorate photos and videos with. There are about two dozen emoji (Clips shows your most-used emoji in these slots) and another dozen stickers — the time, your location, a few arrows — to pick from. Since the app is already cribbing — the comic-book filter feels very similar to last year's hot photo app, Prisma — it would be nice if Apple took a page out of Snapchat's book, and added a doodle tool to let users draw directly onto their content. Title cards are editable, but this isn't entirely clear. Unless you tapped and added one, you'd never know you can change them from presets like "The End" to whatever you'd like.
The Unnecessary
I spent about half an hour messing around with Clips to create a 14-second video. It was a lot of, hmm, what does THIS button do — and in the end, I had a short, dumb clip featuring a stuffed dog and the sound of my own voice. While Clips might be handy for the sort of person — social-media star, video producer, influencer wannabe — who is consistently making and sharing video content, I don't really see myself ever using this app. It's certainly easier than using iMovie, but there's not much Clips does that I'm missing in apps I already use regularly. (Could I see somebody using this thing to cobble together an hour-long video documenting a family vacation? Absolutely.) Snapchat Stories (or its illegitimate twin, Instagram Stories) gets me about 75 percent of the same functionality, with the added bonus of having a built-in distribution platform. If you want anybody to actually see your clip, you have to export it and then upload it elsewhere, like Facebook, Snapchat, or Instagram, anyway.