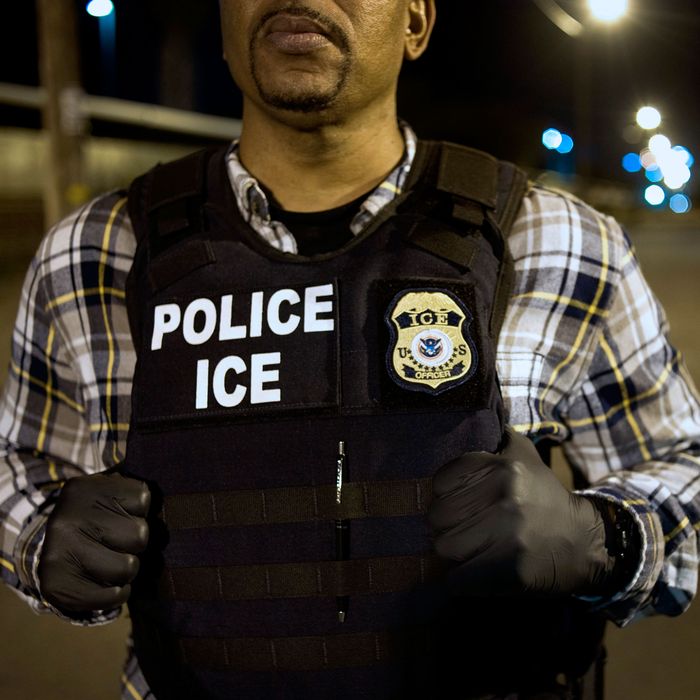 ICE agent.
Photo: David Maung/Bloomberg via Getty Images
Immigration arrests are up more than 30 percent in the first months of the Trump administration, with 21,362 people detained from January 20 through March, compared to 16,104 in the same period last year, reports the Washington Post.

The majority of immigrants detained had criminal convictions, but the number noncriminal immigrants who were arrested — 5,441 — doubled compared to this time in 2016. Overall deportations in January, February, and March hit 54,741, a slight decrease of 1.2 percent, but with noncriminals making up a larger chunk of those deported.
Despite the uptick, immigration arrests do not deviate that drastically from periods in the Obama administration. For example, from January 20 to March 2014, immigration arrests reached 29,238. A total of 7,483 of those arrests included people who did not have criminal records. The number of immigrants without convictions dipped substantially in 2015 and 2016, following an Obama administration directive to dedicate resources to detaining those with criminal background and recent arrivals.
At least the perception of an immigration crackdown appears to be deterring illegal border crossings in the first weeks of the Trump administration. Department of Homeland Security Secretary John Kelly noted huge declines — as high as 70 precent — in the number of people apprehended at the border, reports USA Today. That trend reportedly began in February, when illegal border crossings plunged about 40 percent.
Kelly admitted that the Trump administration is moving fast to crack down on illegal immigration, and it has somewhat broadened its criteria of who is subject to immediate deportation — such as those with drunk-driving arrests. Kelly also insisted that, even as illegal border traffic has slowed, that wall is still getting built.