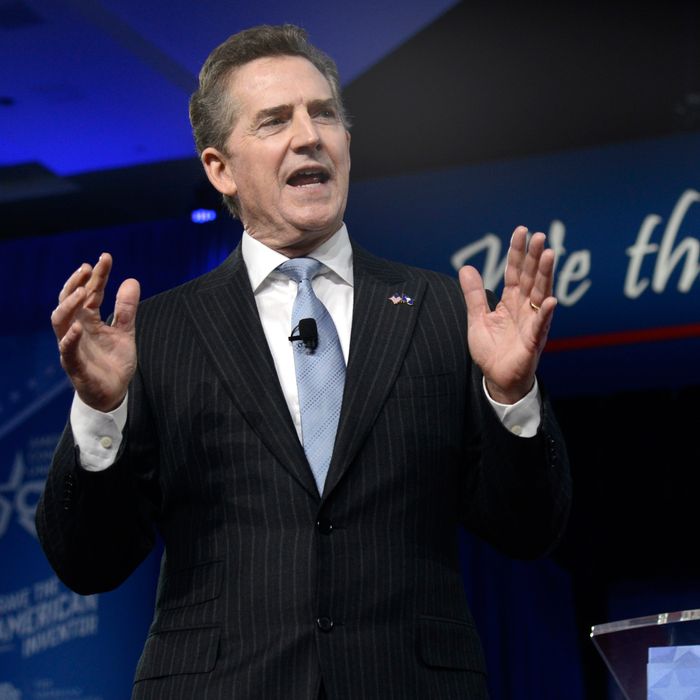 Jim DeMint turned Heritage into a hard-charging political-combat group, but his act grew old.
Photo: Mike Theiler/AFP/Getty Images
Steve Bannon is still in his job. So are Paul Ryan and Reince Priebus, and all sorts of other conservative celebrities of the Trump era who were thought to be on the road to Palookaville at some point during the president's first 100 days in office.
But it looks like one big conservative name (or maybe a second one, if you count Bill O'Reilly) isn't surviving the 100-day milepost: Heritage Foundation president and former U.S. senator Jim DeMint, who is reportedly being forced out of his high-profile post as an ideological commissar today.
The Hill offers an anodyne explanation for this development:
A GOP operative who works closely with the Heritage Foundation said that sources within the organization have confirmed that the board is looking for a new president is who is more focused on policy and less on politics.
"The board wanted someone who is more of a wonk," said the source, who added that DeMint's part-time status in D.C. contributed to the disconnect with trustees.
"He never really committed to moving to DC and spending all his time here. He would come in and out of town and treated it as a job that he didn't intend to stay in for the long term. When his contract ran out, they didn't want to renew it," the source explained.
Sorry, but I'm not buying it. For one thing, Heritage has always been very politically engaged, dating back to the time when it supplied the Reagan administration with massive quantities of both personnel and policy recommendations. For another thing, with DeMint, what you see is what you get. He approaches policy the way a hammerhead shark approaches prey: with a savage single-mindedness. Nobody involved in his hiring could have possibly expected him to suddenly transmogrify into someone who enjoyed sitting on panels to bat around market-based approaches to improving the housing supply. If DeMint's style eroded Heritage's reputation for respectable policy analysis — which it did — it's hard to imagine anyone was surprised.
A very different explanation comes through in an account from the New York Times:
Mr. DeMint's apparent undoing was, in part, a reflection of the dissatisfaction of those inside the organization who believed that Heritage was too much of a sideline player in the health-care debate.
According to one person familiar with the reasons behind his ouster, Mr. DeMint was blamed for not positioning Heritage to make a more effective and convincing case for a full repeal of the Affordable Care Act. He is highly compensated, earning more than $1 million in 2015 alone, according to tax documents.
Given that a repeal has been a central and defining issue for the group for the last seven years, its inability to be more influential with Congress was a major source of consternation for Mr. DeMint's critics.
Reading between the lines, this means DeMint (via Heritage's political arm, Heritage Action) helped bring down the first version of the American Health Act and was presumably a force behind the scenes, helping House Freedom Caucus-types come to Jesus and support the revised version — but he now looks hapless as the whole thing unravels. He had a clear harpoon shot at the great white whale of Obamacare, and missed.
There was talk after the initial Trumpcare disaster that Priebus or Ryan might become the scapegoats for the disaster. Looks now like Jim DeMint's Washington career will die for all their sins.
More generally, DeMint may not have adequately adjusted to Trifecta Washington, where his usual kamikaze tactics just weren't helpful in guiding the GOP to successful lawmaking.
In any event, ideological fanatics of the right will have one less highly placed champion, as DeMint returns to the fever swamps from whence he came.