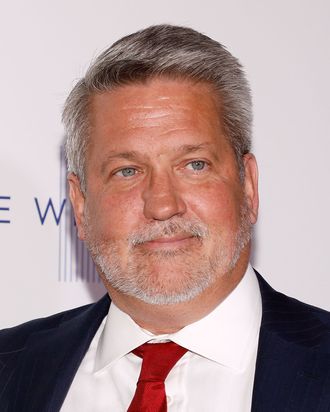 Bill Shine.
Photo: Taylor Hill/FilmMagic
As Fox News is roiled by lawsuits and the ouster of Bill O'Reilly, the network's co-president Bill Shine has retained the backing of the Murdochs. On Monday, Rupert Murdoch took network co-presidents Shine and Jack Abernethy to lunch at Marea, a seafood restaurant near Fox's midtown headquarters — a highly public show of support.

But privately, Shine is expressing concern about his future at the network. According to three sources briefed on the conversations, Shine has told friends he recently asked Rupert's sons James and Lachlan — the CEO and co-chairman, respectively, of network parent company 21st Century Fox — to release a statement in support of him, but they refused to do so. The sources said Shine made the request because of withering press coverage of Fox News in recent weeks. A source added that Shine has privately complained that Rupert "isn't fighting for him" in the press, which is why he wanted explicit support from the sons.
Through a Fox News spokesperson, Shine denied personally going to James and Lachlan for a statement. A Murdoch spokesperson said Shine did not directly ask for a statement.
By refusing to back Shine at this tumultuous moment for the network, the Murdochs may finally be signaling that they're prepared to make the sweeping management changes they've so far resisted after forcing out CEO Roger Ailes last summer. Shine's continued leadership has angered many Fox News employees, especially women, who view him as a product of the misogynistic Ailes culture. Shine joined the network in 1996, served as Sean Hannity's producer, and rose through the ranks to become Ailes's deputy. In that role, sources say he had the power to stop multiple instances of sexual harassment, including that of former Fox booker Laurie Luhn, but did not do so. (Through a Fox News spokesperson, Shine denies this.) He's currently a defendant in a federal lawsuit filed this week by former Fox host Andrea Tantaros.
Sources say there are multiple reasons Rupert Murdoch hasn't replaced Shine. In the immediate wake of Ailes's dismissal, Shine provided stability to run the network day-to-day. More recently, Murdoch hasn't wanted to be seen as caving to critics, especially the New York Times. Another problem is that there is no logical successor who could oversee programming at the network. There's also the question that Shine may simply know too much about Fox News' inner workings at a time when federal prosecutors are investigating the network. Former CFO Mark Kranz was reportedly granted an immunity deal to aid the FBI probe. "Fired executives take immunity deals," an insider said. "So it's a very tricky situation."