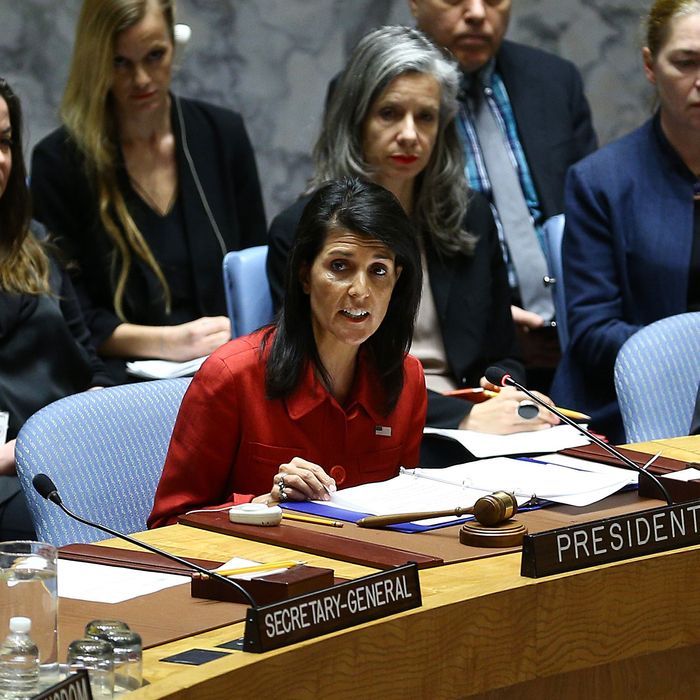 The novice diplomat who is ambassador to the U.N. seems to be making U.S. foreign policy on the fly.
Photo: Volkan Furuncu/Anadolu Agency/Getty Images
U.S. Ambassador to the United Nations Nikki Haley just had a remarkably good week: She went public with an attack on the Assad regime's use of chemical weapons, at a time when the Trump administration seemed at sea on the subject. Then the president shocked the world by firing cruise missiles at Syria, seeming to vindicate not only Haley's words about Assad, but also her past harsh criticism of Russia. Coincidentally or not, in the middle of all this turmoil she was named (along with Energy Secretary Rick Perry) a member of the Principals Committee of the National Security Council, at the same time that Stephen Bannon lost his seat.
And then, just as the entire political world begged for some sort of broader strategy surrounding the missile strike, Haley told CNN that "regime change" in Syria is "inevitable," which the many politicians and pundits who favor direct intervention to topple Assad gleefully treated as administration policy. Even if it's not, the fact that Haley could take that position and not be called on the carpet by her ostensible bosses (including the secretary of State) tells you a lot. Since her foreign-policy background prior to getting this job was exactly zilch, it's not like anyone is deferring to her expertise or the deep respect she inspires among the world's decision-makers. So, what gives?
According to the Washington Post's James Hohmann, Haley's ability to speak out on red-hot foreign-policy topics is a product both of the disarray in Trumpland and the former South Carolina governor's own chutzpah:
All the chaos inside the Trump administration over the past 80 days has allowed Haley to get away with the kind of freelancing that would ordinarily cause someone in her position to be rebuked. In fact, she's been left alone. As she said on ABC the weekend before last, "The president has not once called me and said, 'Don't beat up on Russia.' He has not once called me and told me what to say."
That is not necessarily a good thing. The New York Times' Somini Sengupta also suspects Haley is winging it:
Is she actually setting foreign policy? That would be highly unusual for any envoy to the United Nations. But in these unusual days, vital positions in the State Department remain vacant, Secretary of State Rex Tillerson is far more distant from the public than his predecessors, and many American embassies are still without an ambassador.
That, say current and former American officials, seems to have given Haley, a neophyte in foreign affairs who works closely with a small band of trusted political aides, a great deal of visibility and, possibly, latitude.
The issue of where she is getting her advice is eye-opening, too:
She brought with her a handful of aides from South Carolina and hired a few conservative advisers. Those in her inner circle meet every morning on the 21st floor of the United States mission. Career foreign service staff members are invited only as necessary.
Indeed, the deputy ambassador who runs Haley's Washington office is her long-time pollster, Jon Lerner. So far as we can tell, Lerner has about as much foreign-policy experience as Haley. What he does have, however, is an intimate understanding of the conservative circles from whence so much praise of Haley is currently emanating. Most notably, he's done work for Marco Rubio and the Club for Growth.
Hohmann leaves it an open question as to whether Haley wants to succeed Tillerson at Foggy Bottom, or just check a foreign-policy box on her way to a presidential run. Either ambition would have been considered audacious not that long ago.
But Nikki Haley has long had an eye for the main chance: When she was accused (without corroborating evidence) of marital infidelity during her initial 2010 race for the governorship, she skillfully turned the smear into a symbol of the desperate efforts of the state's former-Democratic "good old boys' club" to hang onto power. That helped transform her from being a long-shot protégé of disgraced governor Mark Sanford into a political powerhouse and, then, governor. And after an up-and-down tenure in that job, in 2015 Haley, with consummate timing, moved decisively to remove the Confederate flag from the statehouse grounds, becoming a national symbol of racial tolerance (mostly thanks to the horrific slaughter in a Charleston church that preceded it) nearly twenty years after Republican predecessor David Beasley took the same position — and more than twenty years after Zell Miller and Newt Gingrich proposed removing Confederate insignia from the flag in neighboring Georgia.
So we definitely know by now that Haley has serious political skills, and has benefited from a lot of luck. But she had better watch her back if she is indeed disrespecting not just career diplomats or her foreign-policy bosses, but also the policy-making autonomy of Donald Trump.