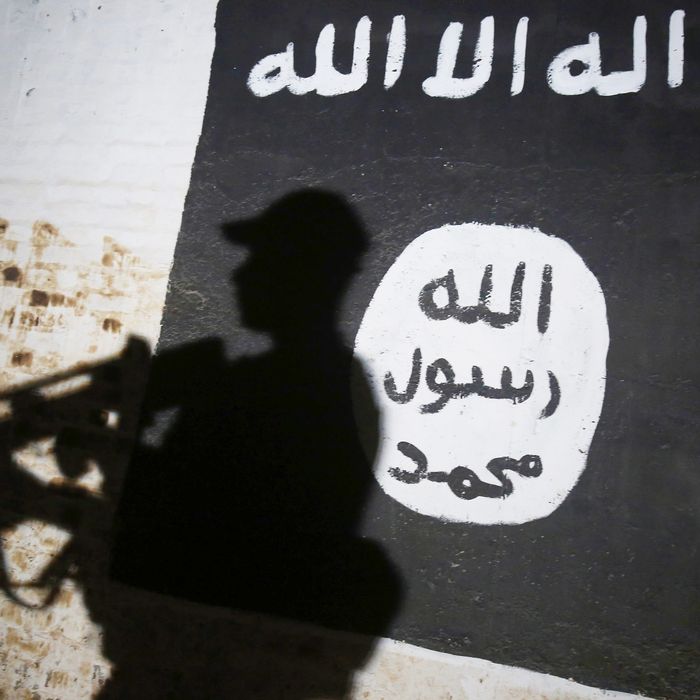 A member of the Iraqi forces walks past a mural bearing the logo of the Islamic State (IS) group in a tunnel that was reportedly used as a training center by the jihadists, on March 1, 2017, in the village of Albu Sayf, on the southern outskirts of Mosul.
Photo: AHMAD AL-RUBAYE/AFP/Getty Images
As the world grapples with Bashar al-Assad's war crimes, ISIS reminded everyone of its own gruesome brutality. CNN reports that the terror group murdered dozens, execution-style, in what is likely ISIS's largest mass killing in 2017. The London-based Syrian Observatory for Human Rights said ISIS "slaughtered" people in Syria, near the desert city of Deir ez-Zor, with "sharp tools" near the edge of a hole that became "filled with blood." It is unclear whether the victims were Syrian rebels or government soldiers or ISIS prisoners, but they were reportedly young, between the ages of 18 and 25.
ISIS also waged a terror attack on civilians and police officers in the Iraqi city of Tikrit, which is south of Mosul, where Iraqi troops, with the support of the U.S.-led coalition, are waging a major, monthlong offensive to expel ISIS. According to Reuters, at least 30 people were killed and about 40 wounded overnight Tuesday after ISIS militants disguised as police officers entered the city and opened fire, and at least two detonated suicide vests. Iraqi troops recaptured Tikrit in the spring of 2015 from ISIS, but as the terror group loses ground and gets squeezed from its last big Iraqi stronghold, Mosul, its operatives are increasing their attacks across the country.