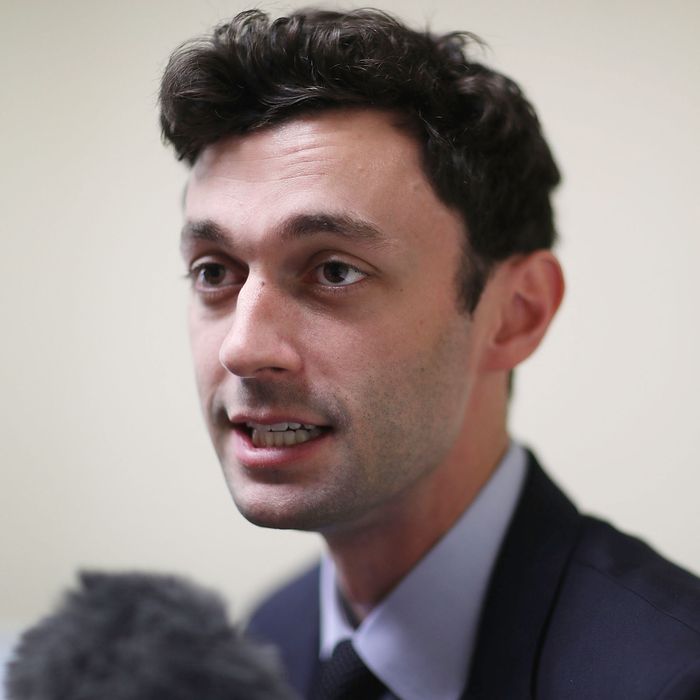 Democrat Jon Ossoff is oh-so-close to the vote he would need to "make Trump furious."
Photo: Joe Raedle/Getty Images
Unlike last week's special congressional election in Kansas, the one tomorrow in Georgia's sixth congressional district won't sneak up on anyone. That includes the Republican Party, which won the seat comfortably — via new HHS Secretary Tom Price — last December, but now is in peril of losing it.
Thanks to a rapidly nationalized campaign waged by Democratic political neophyte Jon Ossoff, who has raised more than $8 million and attracted an army of volunteers, the special election has become the focal point for anti-Trump sentiment everywhere, based on hopes of an early electoral repudiation of the president and his party in a historically Republican district in suburban Atlanta. National Republican interests have responded with a barrage of ads reminding sixth-district voters that despite his mild manner and centrist stylings, Ossoff belongs to the party of (shudder!) Nancy Pelosi, and would be the stooge of unimaginably leftist interests from faraway, alien lands.
The president himself is weighing in on the Georgia race at the last minute via — of course — Twitter:
Meanwhile, four viable Republican candidates are mostly fighting each other for a spot opposite Ossoff in a putative June 20 runoff.
As voters head to the polls in Cobb, Dekalb, and Fulton Counties tomorrow, however, the big question is whether Ossoff can hit 50 percent to avoid a runoff altogether. Most polling has placed him in the low 40s (most recently 43 percent in an Emerson College survey, and 42 percent in an Opinion Savvy poll). So Ossoff's hopes of winning outright depend on his elaborate get-out-the-vote operation beating a newly aroused GOP effort to defend its turf.
Early in-person voting (which concluded on Friday) provides some useful evidence of what could happen tomorrow. Georgia has no party registration, but does collect demographic data as part of its Voting Rights Act compliance; it is also possible to compare early voters to past primary participants to get a sense of who is showing up. According to an analysis from the Atlanta Journal-Constitution, the 57,000 early voters split almost perfectly into thirds between those who did not vote in the 2016 presidential primaries and those who voted in the Democratic and Republican primaries. Looking at the demographic data as well, the New York Times' Nate Cohn estimated that the early voters in this election supported Clinton over Trump by 18 points (Trump won the sixth overall by two points).
If these indicators are accurate, Ossoff may have banked a majority of early votes (representing as much as a third of the total vote) and is fighting to hold off an election-day majority of Republicans. This is the same dynamic that characterized last week's special election in Kansas, although Ossoff has resources for getting out his vote on election day that Kansas Democratic candidate Jim Thompson could have only dreamed of possessing. The other variable that separates the contests in Kansas and Georgia is that the latter does not have the former's deep reservoirs of intensely pro-Trump rural counties. Indeed, it is the preponderance of college-educated white suburban voters who aren't fond of Trump that made Georgia's sixth district a Democratic target the moment Tom Price was confirmed and resigned his seat.
It's anybody's guess what will happen tomorrow. But FiveThirtyEight's Nate Silver looks at the polling data and the district's characteristics and figures the odds are best that Ossoff will wind up in the high 40s but just short of a majority, and will have about a 50-50 chance of winning a runoff against a Republican who will win under 20 percent in the first round.
The identity of that Republican will matter, of course. The GOP front-runner and punching bag for the rest of the field has been former state secretary of State Karen Handel, who has lost two recent statewide elections, and who has, despite a national reputation as a fiery conservative culture warrior, an abiding image among Georgia Republicans as a bit of a squish. Polls vary, but it appears the GOP challenger with the best chance of beating Handel is Bob Gray, a local elected official from Handel's home base of north Fulton County (where about half the electorate resides) who is being backed by the Club for Growth and by elements of the Trump 2016 organization (Gray is going total MAGA in branding himself). If he winds up in a runoff with Ossoff, the already-high typecasting of this election as a referendum on Trump will, if possible, ascend even more.
Yes, Republicans would have nine weeks to unite before a runoff, and it's unclear Ossoff could sustain anything like his early fundraising pace as other campaigns (such as the May 25 special election in Montana) and the soon-to-be-assembling 2018 field compete for resources. So his win-it-all-the-first-time strategy makes abundant sense. If he falls just short, then as a famous fictional Georgian once said: "After all, tomorrow is another day."