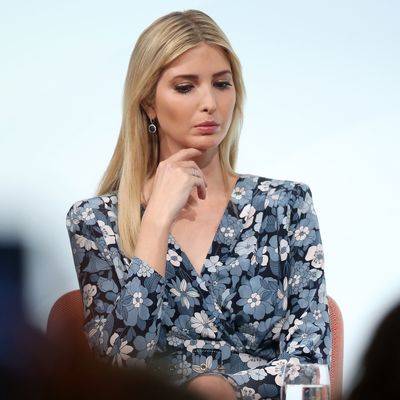 Global feminist.
Photo: Sean Gallup/Getty Images
Ivanka Trump came to Berlin prepared to discuss how micro-finance can #empower female entrepreneurs in the Third World to lean into innovation, and lean out of poverty. (Or so a snarky blogger might uncharitably summarize her recent op-ed in the Financial Times.) But moments after taking her place beside German chancellor Angela Merkel and IMF managing director Christine Lagarde on a panel at the W20 summit, Trump found herself discussing her own motives for being there.
"You're the First Daughter of the United States, and you're also an assistant to the president," the panel's moderator, Wirtschaftswoche editor-in-chief Miriam Meckel, began. "The German audience is not that familiar with the concept of a First Daughter. I'd like to ask you, what is your role, and who are you representing, your father as president of the United States, the American people, or your business?"
"Certainly not the latter," Trump replied. "I'm rather unfamiliar with this role as well … It has been a little under 100 days and it has just been a remarkable and incredible journey."
Trump could not say precisely what her new job as a senior White House official entailed, but defined her goals as "empowering women in the workplace" and achieving "incremental positive change."
The largely female crowd was willing to politely entertain Trump's attempt to rebrand herself as a feminist crusader. But when Ivanka tried to rebrand her father as the same, the audience's patience gave out.
"I'm very proud of my father's advocacy," she said of the president's official (but, so far, entirely passive) support for paid family leave, before calling her father "a tremendous champion of supporting families and enabling them to thrive."
Boos and hisses ensued.
"You hear the reaction from the audience," Meckel said. "I need to address one more point — some attitudes toward women your father has displayed might leave one questioning whether he's such an empower-er for women."
"I've certainly heard the criticism from the media, that's been perpetuated," Ivanka replied, inspiring laughter from that portion of the crowd that remembers the phrase "grab 'em by the pussy."
While Ivanka entered the event as an advocate for female entrepreneurship, and official representative of the U.S. government, she soon found herself speaking in her capacity "as a daughter."