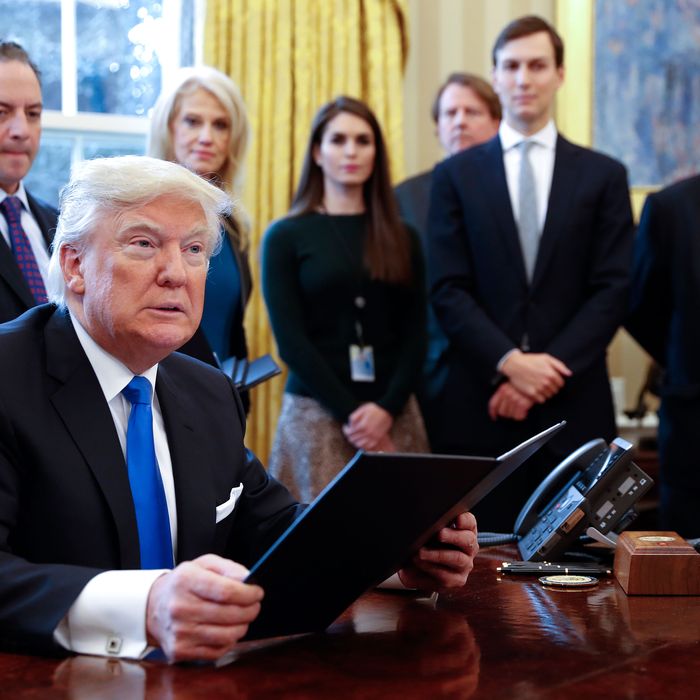 "But this shit is hard."
Photo: Shawn Thew - Pool/Getty Images
Jared Kushner and Steve Bannon, two of President Trump's top advisers, appear to have little in common beyond their devotion to a manifestly unfit chief executive. But a probing Politico piece chock-full of delightful behind-the-scenes details about the first 100 days in the West Wing reveals one other thing: They both keep long-term to-do lists on whiteboards in their West Wing offices.
Bannon's is a list of Trump's campaign promises, reflecting the president at his most combative and uninformed. Notably, there's also a list of 11 promises that have been delayed, a sign of Bannon's optimism that Trump really is the right-wing nationalist he suggested during the campaign. Kushner's whiteboard, on the other hand, lists bipartisan projects relating to veterans and infrastructure that he hopes to achieve with his newly created Office of American Innovation.
No wonder these two keep feuding. Earlier this month, reports had Bannon flirting with unemployment after weeks of clashing with Kushner, who prefers a methodical approach to Bannon's bulldozer. But Politico says the baby-faced real-estate heir and the crater-faced media mogul have reached a détente and Bannon's place in the White House appears safe, for now.
Even with their disagreements, it's hard to imagine that Kushner and Bannon can't use each other's help. The more people to manage the child in the Oval Office, the better. As Politico notes, Trump aides have learned to dumb down presentations, keep him apprised of how the news will cover his decisions, and above all else "talk him out of doing crazy things."
But the article's most amusing details involve Trump's greatest obsession — the media. For example:
• Trump has met in the Oval Office with right-wing aggregation king Matt Drudge, who keeps an open line of communication with Kushner.
• Sean Spicer has a daily pre-briefing ritual of asking Trump what he'd like to see on TV that day.
• The media obsession has even filtered down to staffers, who are so sensitive to media critiques that they were offended by stories doubting the White House's ability to pull off an Easter Egg Roll. When the event was held without major disaster, they were offended again that no one praised them.
As Trump's first 100 days wind down and he scrambles for some great success to point to, there's a lot of scrambling outside the White House for a narrative that best encapsulates what has been a largely ineffective and tumultuous 100 days. Let that scramble end, because an anonymous White House official summed it all up in a quote to Politico's reporters: "I kind of pooh-poohed the experience stuff when I first got here," the official said. "But this shit is hard."