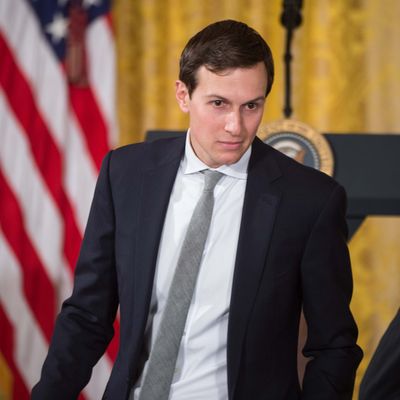 It's a lot to handle, but that's why the American people elected him.
Photo: Nicholas Kamm/AFP/Getty Images
Jared Kushner, President Trump's son-in-law and adviser, took an unannounced trip to Iraq this weekend at the invitation of General Joseph Dunford, the chairman of the Joint Chiefs of Staff. According to the New York Times, which broke the story, it's unclear what he hoped to gain from the trip.
It's hard to keep track, but Iraq wasn't previously listed on Kushner's to-do list. President Trump has publicly tasked Kushner with brokering peace in the Middle East, and he's also been involved in discussions with Mexico, Canada, and China. Last week Kushner was put in charge of the newly created White House Office of American Innovation, which is supposed to overhaul the federal bureaucracy, reimagine Veterans Affairs, modernize technology used by the federal government, develop "transformative" infrastructure projects, and fix the opioid crisis, among other tasks. He's also playing a major role in preparations for President Trump's meeting with Chinese President Xi Jinping later this week.
Even before his trip to Iraq, some in the White House were questioning Kushner's ability to tackle all of these tasks. A pro-Israel operative who works with the White House told Politico that they had high hopes for Kushner, but they've been replaced by "deep concern that Jared is not the person we thought he was — that this guy who is supposed to be good at everything is totally out of his depth."
Apparently they're forgetting that the 36-year-old has extensive experience running the real-estate company he inherited, as well as the New York Observer. Surely he'll have no trouble revamping the federal government while handling all of our most sensitive diplomatic interests.
This post was update to remove a quote from Reuters, which has retracted its story.