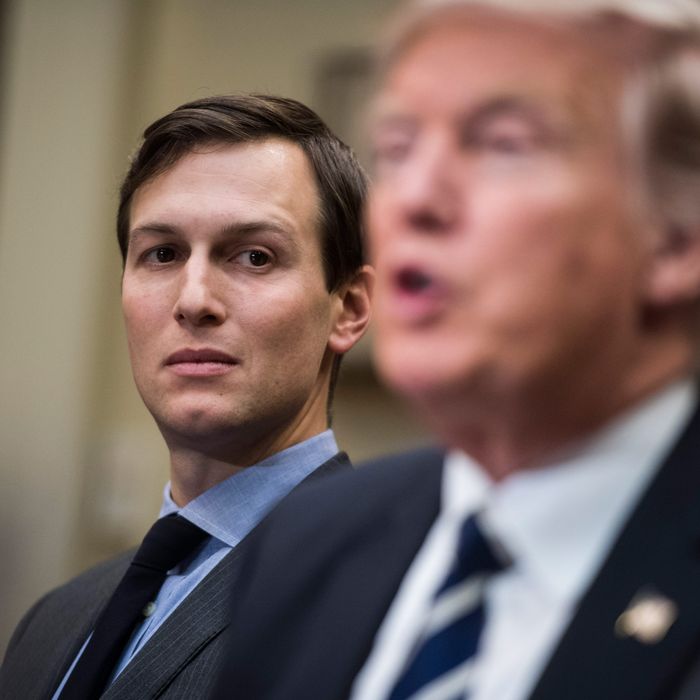 The smartest people.
Photo: The Washington Post/The Washington Post/Getty Images
When President Trump meets with his Chinese counterpart at Mar-a-Lago this weekend, he will not have the assistant secretaries of State and Defense for East Asia at his side — because his administration has failed to hire anyone for either of those positions. He will also lack one of the U.S. Trade Representative's dedicated China specialists, because he has left that position unfilled.
His administration's highest-ranking China adviser may be Matthew Pottinger, a journalist who worked in Beijing for a period before fighting with the Marines in Iraq and Afghanistan, and then riding Michael Flynn's coattails into the position of senior director for Asia on the National Security Council — a slot normally reserved for someone with far more experience in dealing with the Chinese government.
But Trump does not need a team of conventionally qualified advisers on U.S.-China relations. According to Politico, the president is content with unconventionally "qualified" ones instead:
Trump will be relying heavily on son-in-law and real-estate magnate Jared Kushner with some assistance from old China hand Henry Kissinger and Secretary of State Rex Tillerson, an oil executive who is mostly unfamiliar with the customs and political protocols of a Chinese delegation that places a premium on them.
In other words, Trump's plan for his first meeting with the leader of the world's second-greatest power sounds like the first line of a bad joke: The president's son-in-law, a Texas oil guy, and a 93-year-old man walk into a meeting with the Chinese president.
For contrast, here's who Xi Jinping is bringing to the table:
Xi will come to the summit with a team of players with decades of experience in negotiating with at least three successive American presidents, and a huge playbook brimming with research and intelligence on U.S. positions on trade, security and other key issues, according to Wilder and others. Xi will have his secret weapon, Wang Huning, a senior adviser to three Chinese presidents and a specialist on U.S. politics who has accompanied the Chinese president on dozens of overseas trips to meet with world leaders.
Xi has already leveraged the Trump team's inexperience for diplomatic gain. As Foreign Policy reported last month:
During his visit to Beijing last weekend, Secretary of State Rex Tillerson made a strange move — adopting Chinese verbiage to characterize the U.S.-China relationship. Both before and after his meetings with his Chinese counterpart, Foreign Minister Wang Yi, Tillerson said that "the U.S.-China relationship has been guided by an understanding of non-conflict, non-confrontation, mutual respect, and win-win cooperation." In using such language, Tillerson adopted wholesale the Chinese definition of U.S.-China relations — repeating nearly verbatim language that Xi Jinping and other Chinese officials have used previously. China doesn't use these words because they sound nice (in fact they sound very strange to a native English speaker). They use them because they convey a specific definition of China's proposed "new model of great power relations" — of accommodation, non-interference, and spheres of influence.
Tillerson's (unintentional?) acknowledgment of China's great-power status, came weeks after he had pledged to block Beijing's access to its disputed islands in the South China Sea — a vow that likely require acts of war to uphold. Around that same time, Trump was publicly questioning the wisdom of the One China policy — which forbids America from acknowledging the legitimacy of the Taiwanese government, in deference to Beijing.
Both men quickly abandoned those positions upon China's request. Taken together, these moves were a rather odd way of signaling strength and establishing the credibility of America's "red lines."
Anyhow, non-interference and "spheres of influence" may sound innocuous to American ears. But it sounds very different to those of the Japanese and South Koreans, who don't want to lose America's support in their disputes with Beijing.
According to Politico, Xi's goal in Mar-a-Lago will be "to show the billions of Chinese back home — and other world leaders — that he is recasting the U.S.-China relationship as one of two equal superpowers."
Surely, Jared Kushner can figure out how to gain Chinese cooperation on trade and North Korea without betraying our core Asian allies. He went to Harvard, after all.